11/15/2018
Meet the 2019 Program Committee Co-Chairs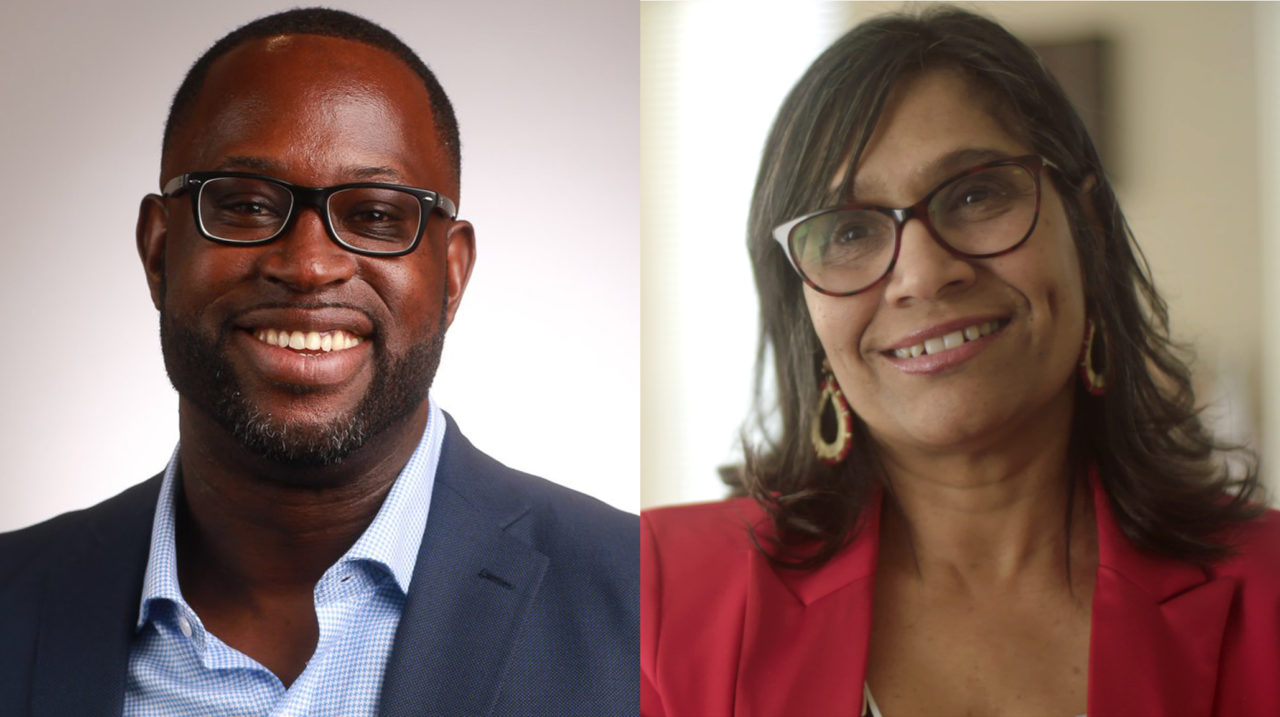 Every year class members of Leadership Rhode Island's Core Program tell us how impressed they are by our ability to anticipate the most relevant issues in Rhode Island, and how they are transformed by being connected to those Rhode Island leaders and front-line innovators who push the boundaries of those issues. The secret is no real secret – our 2400+ alumni, spanning nearly four decades, lead us.
Session days are designed by a select group of alumni with a desire to give back to the program from which they benefitted. We recruit and assemble these alumni into our program committee to serve for only one year. They meet monthly in tandem with the class year to assure timeliness and relevance with current events. Their task is to determine the most important matters of the day or just over the horizon for which to influence the next batch of leaders through a structured planning process that digs deep into the what, who, where, why, and how of Rhode Island.
It's not uncommon that on the very day we deliver programming, the news just broke on that topic or it's the talk of Rhode Island shortly thereafter. Like all the best of Leadership Rhode Island, it's a nimble, dynamic model that seldom misses because it's conceptualized via the eyes, ears, and minds of our 2400+ alumni – diverse in every aspect imaginable – and executed by our high functioning, perfectionist staff.
It gives me great pleasure to introduce the 2019 Program Committee Co-Chairs, Ana Novais (LRI '04) and Lanre Ajakaiye (LRI '17) – two Rhode Island leaders with very different backgrounds, skill sets, and perceptions of what makes Rhode Island tick. Both are accomplished Leaders As Hosts. I have no doubt that their servant leadership throughout the year will guarantee the Omicron IIs the "Best Class Experience Ever!"
Best,
Mike Ritz, '07
Executive Director
Leadership Rhode Island
Ana Novais (LRI '04)
Achiever – Strategic – Arranger – Competition – Belief
Ana P. Novais, holds a master degree in Clinical Psychology, UCLN, Belgium, and is a graduate from the Northeastern Public Health Leadership Institute, University of Albany, NY and Leadership RI. Ana has worked in Public Health for over 30 years including 5 years in Africa (Cape Verde), 5 years in Portugal and for the past 23 years in the USA.
Ana has worked for the RI Department of Health since 1998, first as an Education and Outreach Coordinator focusing on children health issues, specifically lead poisoning prevention and immunization and later, as the Chief for the Office of Minority Health, charged with assuring the Department addressed the health needs of the racial and ethnic minority communities of RI.
Since March 2006 as the Executive Director of Health for the Division of Community, Family Health and Equity, Ana lead the department efforts to achieve the goal of health equity by focusing in the areas of Health Disparities and Access to Care, Chronic Disease Management and Prevention, Environmental Health, and Maternal and Child Health; and by developing and implementing the "Rhode Island Health Equity Framework" a plan of action for achieving health equity at the state and at local level through the "Health Equity Zones" initiative.
In August 1, 2015 Ana become the Executive Director of Health for the Department, charged with implementing the Department Strategic Priorities across all divisions and assuring that the Department resources and operations are aligned with the strategic priorities. In addition, since July 2016, Ana assumed the role previously held by the Deputy Director.
Ana is a proud mother of 4 adult children and grandmother of 5 beautiful young children. Ana was born in Cabo Verde, and her roots are in Portugal, Europe (mother) and Angola, Africa (father). Ana is fluent in Creole, Portuguese, French, Spanish, and English. She loves to travel, reading, photography and spending time in her garden.
Lanre Ajakaiye (LRI '17)
Futuristic – Strategic- Ideation – Relator – Learner
A recognized marketing, sales and strategic leader known for combining innovation and future vision to achieve impact within career and the community, Lanre Ajakaiye has a unique blend of leadership acumen and vision grounded in servant leadership. As Director of Marketing Operations for AAA Northeast, Lanre has responsibilities across people, process and technology across the Northeast.  This includes oversight over an omni-channel contact center where he drove technology transition to the cloud and process optimization resulting in scaled increases in revenue retention, organizational efficiencies and growth.
Before AAA Northeast, Lanre's experience included driving global standardization for customer relationship management (CRM), lead generation including cross and upsell, retention and marketing services at MetLife across 10 business lines in five states and two international locations (Costa Rica and El Salvador).  During this time, Lanre built an intelligent modeling and analytics platform personalized by individual and led the voice of the customer vendor selection for the Customer Sales & Service Group, a $5MM global investment.    Before this, Lanre was Top 2 in the nation for Group Property & Casualty sales at MetLife and a multiple, Conference qualifier.
With a strong focus on community impact, Lanre is a known social entrepreneur behind the omni-channel marketing strategy of web, social, digital, app development, branding and onsite tactics for events such as:  The New England Family Fun Festival for family and youth and R.I.S.E. (Realizing Inspiration & Sustaining Excellence) Women's Leadership Conference with his wife Hilina, Executive Director.  The New England Family Fun Festival yielded 6,232+ families in its first year across 40,000+ sq. ft at The Rhode Island Convention Center.   The inaugural R.I.S.E. (Realizing Inspiration & Sustaining Excellence) Women's Leadership Conference (http://risewlc.com) happened on: Thursday, September 20th, 2018 at the Rhode Island Convention Center – selling out in its first year and landing on the front page of the leading area newspaper. Both events were attended by the Mayor of Providence, Jorge Elorza, Mayor of Cranston, Allan Fung Secretary of State, Nellie Gorbea to name a few.
Lanre holds a Master of Business with a specialization in International Marketing Management from Boston University.  His undergraduate studies at the University of Rhode Island concluded with a Talent Development Academic Excellence Award and earning a Washington Leader's Fellowship taking him to work in Washington, DC. Lanre is also a graduate of Classical High School in Providence, Rhode Island where he finished All-State for Track & Field in hurdles setting a record which endured for 20+ years.  He maintains active membership in Leadership Rhode Island and the American Marketing Association.
Lanre has been the recipient of the BOND Leadership & Community Service Award and became alumnus of Leadership Rhode Island in 2017 with the NUII Class. Lanre was voted Speaker of the House and Class Speaker by classmates.  Lanre enjoys volunteering time to youth and empowerment initiatives. His proudest and most cherished accomplishments are his family and mentoring youth in the community.