By Christine McDermott '11 |
A 'life-changing experience'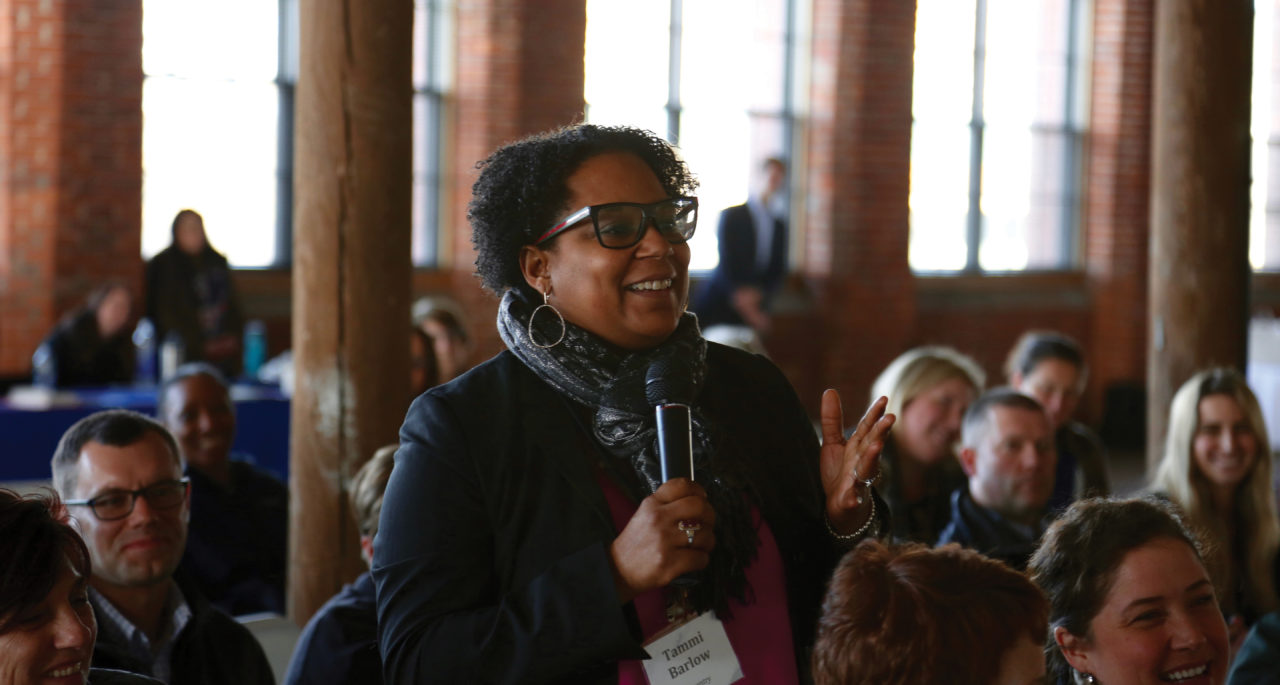 Before the call that she will never forget came over the radio, Tammi Barlow '18 was caught in conversation with the Providence police officer who had taken her for a ride-along on the overnight shift.
As they drove around the South Side, alive and vibrant in the final hours of PrideFest, they compared notes on her native Chicago, where murder is all too common, and Providence, where they expected a night dealing with noise violations and intoxication.
Barlow, Manager of Responsible Gaming and Corporate Social Responsibility for IGT, was on the ride-along as an enhancement to the Leadership Rhode Island Core Program, a time-honored tradition for all LRI participants. She had just asked the officer how he would know if an emergency was happening – like gunshots – and he was explaining how a special siren would sound, when that very thing happened.
It was 1:30 a.m. June 17, and a man had been shot multiple times on Garnet Street. Barlow described her experience in a gripping Facebook post later that morning:
"I was a part of this from the time the special alarm went off in the police SUV to them putting up the crime scene tape, pulling his lifeless body out of the car, rushing him to the ER in crowded streets, waiting for him at RI Hospital which is a trauma one hospital, watching them try to pump life into him, hearing the paramedics say, there's 1% chance he'll survive, to hearing them call time of death.
Because I am black and he was unidentified, the hospital personnel assumed I knew him, and because I was with a cop they let me see more than my mind should have. But then I witnessed the loneliness of death as they cut off his clothing, bagged up all the evidence for the homicide detectives, pulled his bloody, lifeless body onto the stretcher to take him to the morgue. Alone. No family. No friends. Situation unknown.
There's so much more to my ride along and about this situation, but since I saw this make headlines I had to post. RIP to the young man I came in contact with for the last hour of his life. My prayers go out on this Father's Day to him and his family."
Barlow recounted the experience months later, following the Xi II commencement.
After she returned home the morning of the shooting, she took her children – a 14-year-old boy and 10-year-old girl – to the crime scene.
"I took a piece of the crime tape," she said. "I wanted them to know that you're never, ever just safe, and someone died here. My message to them was: Life is short, and of this person, the only thing that remains is this tape."
For Barlow, the worst part was seeing Jacorey Sanders, a 25-year-old father of two from New Bedford, die alone.
"The paramedics brought in his gym shoes, they put all his stuff in a little brown paper bag," she said. "His whole life comes down to one little brown paper bag."
That day, Barlow resolved that she would turn her experience into positive action. She connected with Angie Ankoma '14, Executive Vice President at the United Way of Rhode Island, whom she sees as a positive community leader.
"I just wanted to talk to her about where the leadership is in the black community," Barlow said. "Even though this guy wasn't from Rhode Island, I just felt like, where's the leadership? Who is beating the drum to say we've got to save our kids?"
On her LRI commencement day, Barlow and her classmates were asked to write down a pledge.
"I said I wanted to somehow become more involved in the juvenile justice system," she said. "I have no clue how to do it, but I feel very inspired to."
While she figures it out, the single mother will focus on her own children, whom she adopted from a group home.
Having moved to Rhode Island in January 2015, she is grateful for her LRI experience.
"It just made me more aware, and it pushed me to think about things I've never thought about before," she said. "To experience what I did, it was just that much more life-changing . . . For someone not from here, I think it made me invested even more in this state."
One regret that Barlow has is that she doesn't remember the name of the officer she was riding with. "He is the best person," she said. "I really want to thank him."