By Christine McDermott '11 | 11/26/2018
Bipartisan co-chairs led with respect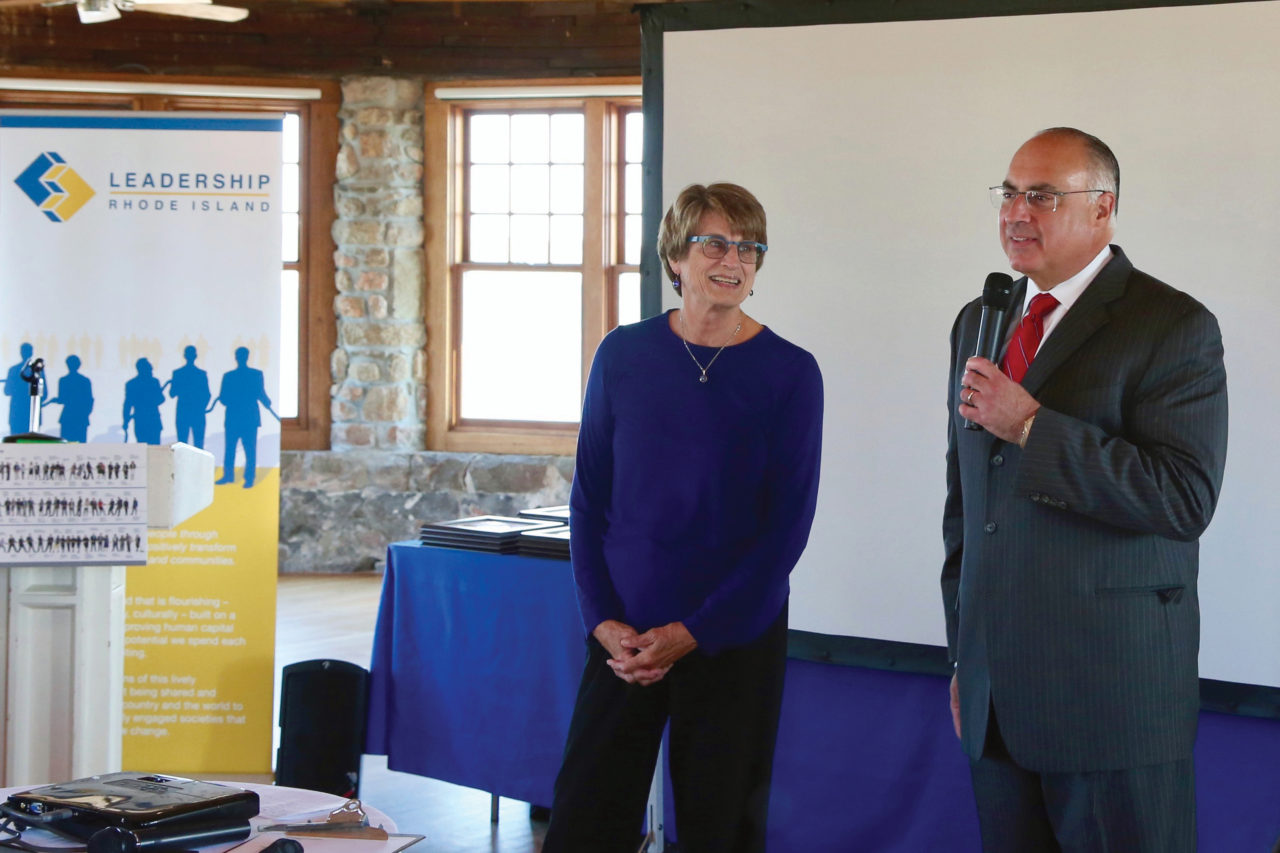 The idea was pitched as "a lively experiment."
Could a Leadership Rhode Island program committee led by one staunch Republican and one staunch Democrat – with six members from each party – get past their ideological differences and work together? Could they find compromise, common ground, innovation and ideas to create the curriculum for the Xi II class?
Answers to those questions emerged during a recent celebratory planning committee wrap-up session at LRI headquarters.
The consensus from the program Co-Chairs, Republican John Harpootian '88 and Democrat Myrth York '92, was yes – with one qualifier. For the most part, partisanship stayed out of the discussions.
"In terms of the program committee, we didn't talk politics," said York, a former state senator and three-time candidate for governor. "We're an incredibly civil group."
Harpootian, former vice chairman of the Rhode Island GOP, said he initially was reluctant to participate in the BiPartisan Program Committee when approached by Executive Director Mike Ritz '07.
"I said, 'I don't think I can do this because I'm going to be shoveling against the tide here, and it's going to look bad,' " recalled Harpootian. Well aware that Democrats outnumber Republicans in Rhode Island, he said he didn't want to leave himself open to ambush.
His concern that the class would be dominated by Democrats was borne out at the Xi II opening retreat when Barnaby Evans '95, executive artistic director of WaterFire, conducted an impromptu poll on how the 76 class members had voted in 2016.
In remarks before staging a moving outdoor torch ceremony, Evans invited the Xi IIs to privately divulge their presidential choices by putting a mini Reese's peanut butter cup in a vase if they voted for Donald Trump and a Hershey's kiss if they voted for Hillary Clinton.
Just 12 peanut butter cups were dropped in the vase.
While the focus of the experiment was on decision-making, there were signs that the very existence of deliberately enlisting bipartisan co-chairs and committee members had a positive impact on class discussions.
Just knowing that Harpootian had a role in planning the monthly sessions may have made it easier for the Trump voters to share their opinions throughout the year, said Kristin Zosa Puleo, LRI Programs Manager.
"I would like to think it made people more comfortable to speak their minds," she said. "I saw a little bit of that, especially on immigration day, where people spoke up and were posing questions from a differing point of view."
Ritz agreed. "Some people who wouldn't call themselves Republican wanted to hear from John. They respected John and wanted to hear his point of view."
As expected, the co-chairs were models of civility. When York and Harpootian spoke to the class, they did so together, Ritz said. "They were not arguing; each would say their truth."
While the committee had recipes from previous years to guide their program planning, a session day on immigration was new this year. And there was some debate.
"It was so completely unstructured, we didn't have anything to go on," York said. "Do we talk about Dreamers, refugees, the normal process for citizenship, E-Verify? It was so broad. How do you narrow that to talk to immigration for a day?"
Harpootian wanted to focus on immigration law, one of the many times throughout the year that he stressed "learning outcomes." "The class needs to know what the law is," he said. "I remember saying it three times."
That's why Carl Krueger, staff attorney for Dorcas International Institute of Rhode Island, was asked to participate. He conducted a two-hour workshop, and "it was by far a highlight," said Ritz. "We were worried about it because we dedicated a ton of time to it. Policy can be boring. But they loved it."
What were the takeaways from the experiment?
Some committee members suggested that it helped to have a clear-cut assignment. "You asked us to serve on this committee . . . . to put on an effective program for this class. You don't have much choice, you have to do this job," Harpootian said.
Program committee members also seemed to think that reaching consensus was possible because, in spite of wearing different political labels, they all had something important in common: They were LRI alumni. "We've all had that common experience together," said Jerauld Adams '14, a Republican.
Democrat Jacob Brier '14, said that although committee members had different ways of looking at issues, "we're all here for the same reason: to create a program for the interest of advancing Rhode Island."
Some members also agreed that reaching compromise is probably more likely when participants are able to debate and discuss in private; political stances tend to become hardened under the glare of the public spotlight.
While the BiPartisan Program Committee was a one-year experiment, Ritz hopes that other leadership programs will try a similar approach and potentially change the tone of political conversation in their communities.
"My concern on a personal level is if the politics are going to get nastier and nastier and nastier – which they seem to be – are you burning bridges and cutting such deep wounds that you can't ever heal them when it's time to govern?"
"I wanted to get this dialogue going. I want other states to try it," he said. "Perhaps we could change the dynamic a little bit."