By Ashley Rappa '19 and Jen Hetzel Silbert '19 | 3/2/20
Growing Up: CLRI expands to a full year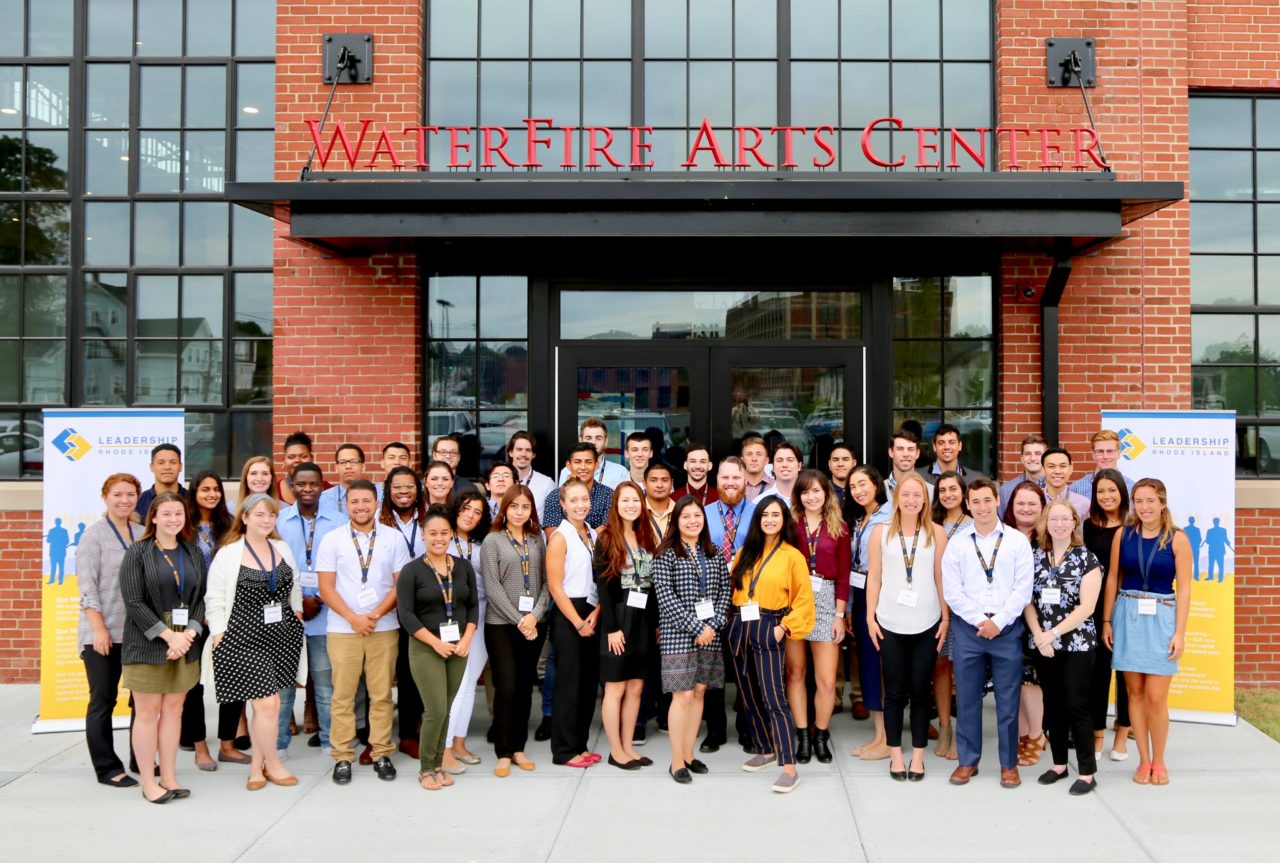 College teaches the skills needed for work, while College Leadership Rhode Island (CLRI) teaches the power of a network.
That's how Rhea Bhatia CLRI '19, describes the link between her classes at Johnson & Wales University and her experience in CLRI. "College taught me what to do on the job, but not how to network or make connections to get the job," she says.
In an employment market where 85% of jobs are obtained through relationships, CLRI matters, especially in a small and intimately connected state like Rhode Island.
"CLRI taught me the importance of meeting people and engaging with them," says Bhatia. "I've always struggled with starting the conversation, but CLRI helped me find a point of connection and how to capitalize on that in the moment."
Bhatia graduated from Johnson & Wales with a master's degree in mental health counseling and CLRI on the very same day and is now a clinician at the North American Family Institute, a nonprofit human service agency in Providence.
CLRI opened Nicholas Siner's eyes to "how big Rhode Island actually is." Siner participated in CLRI in 2018 while enrolled at the New
England Institute of Technology, where he majored in digital media production.
"I had no idea how many companies were here, and big names like Hasbro, Fidelity, CVS, and Tiffany & Co.! There is so much to offer by staying here — as in a whole world beyond beaches, coffee milk, and bad drivers," says Siner, who was raised in Vermont.
Now a video specialist at Schneider Electric in West Kingston, Siner says he loved his CLRI experience. Though, in reflection, he realizes that "packing so much information into just four sessions felt insufficient . . . I'm so grateful CLRI expanded; it's a real investment in Rhode Island's future leaders."
Siner was in the last class limited to four full days in a single semester. By 2018-2019, when Bhatia participated, the program had expanded to eight days over the course of a full academic year.
CLRI, conceived in 2003 and launched in 2004, is growing up.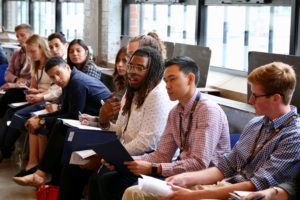 The idea for CLRI emerged during a 2003 Fidelity reception for Leadership Rhode Island, at which Chris Feisthamel '01 and colleague Joseph Pratt, who would go through LRI in 2006, brainstormed ways to attract more local talent to Fidelity's then-new Smithfield campus. Armed with those initial kernels jotted down on a cocktail napkin, Feisthamel, who was on the LRI board, successfully advocated for the creation of a mini-core program tailored for college students.
In its infancy, CLRI offered 25 undergraduates from 10 local colleges four half-day sessions during which they engaged with leaders from the public, private and nonprofit sectors, men and women committed to making the state a better place to work and live.
Over time, CLRI experienced growth spurts and programmatic change. In 2013, in response to student demand, the program was expanded to four full days. In 2014, class size was increased to 35 students, nine of whom remained for a second semester of shadowing executives, service in non-profit governance, and an introduction to the state legislature.
By the 2018-2019 academic year, the length doubled again to eight full days over two semesters and class size grew to 50. The doors to the program were opened to include college graduates up to 26 years old who are emerging leaders in the community.
Jeff Gagnon '19, an executive at Amica, one of CLRI's longtime sponsors, sees CLRI as a "proactive way to keep talented college students in the state and working on RI-based challenges."
Pinning down how many of CLRI's 428 graduates stayed in Rhode Island is a task underway now by Samantha Bergbauer, LRI's new College Program and Alumni Coordinator. While updating 15 years of alumni data, Bergbauer also is focused on building a stronger CLRI alumni presence within LRI and within the state.
Anecdotal information suggests that plenty of CLRI alumni are successfully employed here. A tiny sampling: Suzy Alba CLRI '04, Director of Alumni and College Relations at Rhode Island College and President of the Smithfield Town Council; Stephen Kavanagh CLRI '04, Legislative Director at the Executive Office of the Governor; Rob Hamlin CLRI '04, Director, Release Services, at Fidelity Investments; Dave Chéry CLRI '13, Financial Analyst with FGX International, and Rocio Cabrera CLRI '13,
Senior MilieuTherapist at Lifespan.
Also, a half-dozen CLRI graduates, including Stephanie Mandeville CLRI '05, LRI '15, Communications Director for the National Education Association of Rhode Island, are also graduates of the core program.
Though the CLRI program has morphed over time, its core mission — to inspire, educate, and engage a diverse group of emerging young adult leaders as they transition from college to career — has remained.
CLRI offers its students a combination of how-to's for making a good impression and opportunities to interact with leaders and influencers in the community. With topics such as Engaging with Government; A Positive Online Presence; The Etiquette Code; and Perfecting the Ask: Developing Your Elevator Pitch, each session is dedicated to fueling passion and encouraging professionalism.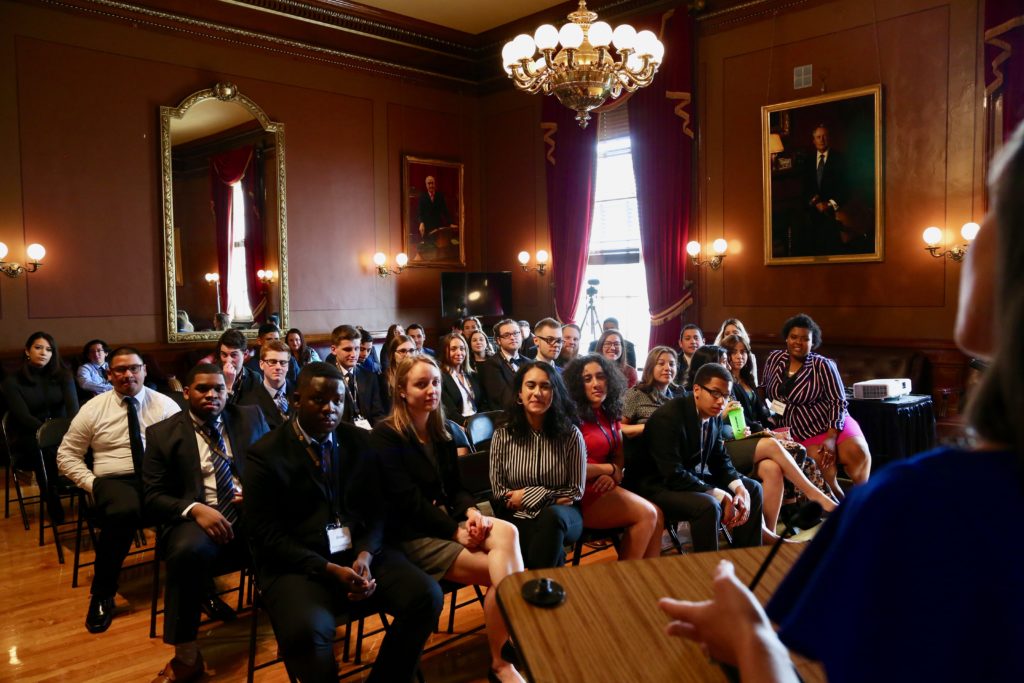 Participants also explore careers in the nonprofit, private and public sectors, expanding their knowledge and their networks. There is also an emphasis on leadership style, strengths and competencies as well as the importance of physical, mental, and financial well-being.
For Ting Barnard '15, owner of Ting Barnard Studios, welcoming  Manal Jakhar CLRI '19 into her workplace was an opportunity to fortify her business and reflect upon her own strengths.
"Confidence, hard work and integrity are the essentials when I am looking to hire. A strong candidate will be willing to overcome challenges, meet deadlines and navigate circumstances using their individual strengths," Barnard says. "I found all of those qualities when Manal shadowed me, and see them now that she's an employee. She and I share a lot of the same strengths, but how we implement them and our approach and styles differ in the best ways."
Barnard and her husband Ian Barnard '17 are CLRI sponsors, along with Maryanne and John Mulattieri '09, National Grid, Amica, and, most recently, Navigant Credit Union.
These sponsors provide one of the greatest benefits of CLRI: It's tuition-free, a powerful unifier that creates equity of opportunity for participants and strengthens the program. CLRI's success stems, in part, from its diversity — diversity of opinion, background, and experience.
"By the second or third session, participants begin to realize it's not just about the exercises or the projects," says Feisthamel, whose vision helped shape CLRI. "It's about how we listen, not just how we speak. It's about how we open up to new perspectives, not just push our own agenda. There's value in working together to create something that's greater than the sum of its parts."
Interested in getting to know more about the CLRI Program. Attend Meet the New CLRI on Monday March 23rd.