By Leadership Rhode Island | January 26th, 2018
Ludes and Miller to be Honored as "Leaders as Hosts" at 30th LRI Awards Luncheon
First in a series of honoree announcements. Stay tuned- more to come!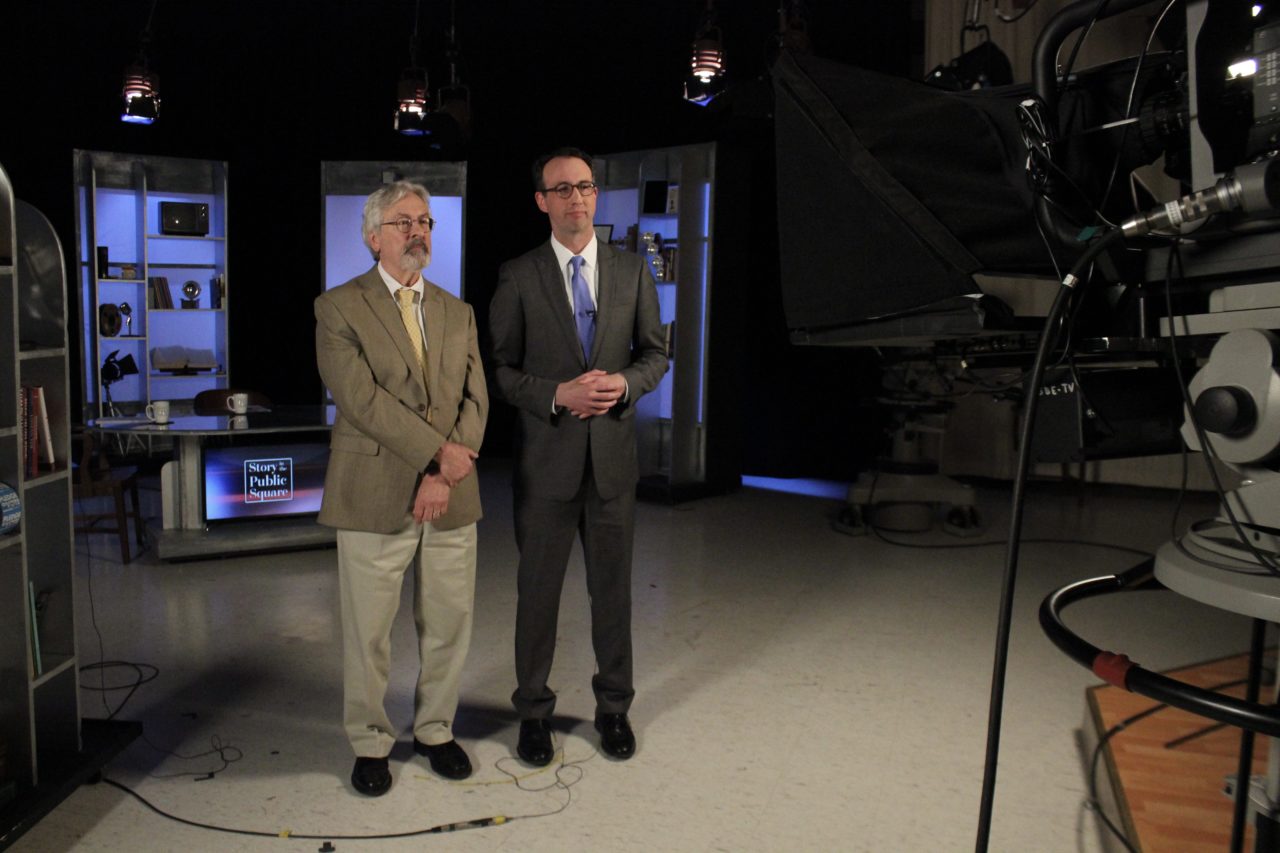 Jim Ludes and Wayne Miller will be recognized for their work at the Pell Center for International Relations and "Story in the Public Square"
For the 30th edition of the Inspiring Leaders Awards Luncheon, Leadership Rhode Island is proud to recognize leaders in our community who have been effective conveners, facilitators, bridge builders, and alliance creators, in keeping with the 2018 theme of "Leaders as Hosts."
As defined by Margaret Wheatley, hosting leaders must:
Provide conditions and good group processes for people to work together;
Provide resources of time, the scarcest commodity of all;
Insist that people and the system learn from experience, frequently;
Offer unequivocal support- people know that the leader is there for them;
Keep the bureaucracy at bay, creating oases (or bunkers) where people are less encumbered by senseless demands for reports and administrivia;
Play defense with other leaders who want to take back control, who are critical that people have been given too much freedom;
Reflect back to people on a regular basis how they're doing, what they're accomplishing, how far they've journeyed;
Work with people to develop relevant measures of progress to make their achievements visible;
Value conviviality and esprit de corps– not false "rah rah" activities, but the spirit that arises in any group that accomplishes difficult work together.
Through their work at the Pell Center for International Relations at Salve Regina University, Jim Ludes and Wayne Miller have displayed many of these traits. Their weekly television/radio production, "Story in the Public Square" has served as a valuable forum for civil discourse since 2012 and Wayne was a key partner in LRI's 2014 Publick Occurrences forum, "Is Rhode Island's Mental Health System in Crisis?" Leadership Rhode Island is proud to recognize them on March 22nd for their valuable contributions to our state.
Please join us at the Providence Marriott Downtown as we celebrate them and other leaders as hosts who are yet to be announced. Tickets and sponsor packages are available at lriluncheon.eventbrite.com.
Bios
James M. Ludes, Ph.D., Salve Regina University, Vice President, Public Research and Initiatives; Executive Director, Pell Center for International Relations
Dr. James M. Ludes is Vice President for Public Research and Initiatives at Salve Regina University in Newport, RI, as well as Executive Director of the
university's Pell Center for International Relations and Public Policy. In addition, he is executive producer and co-host of "Story in the Public Square," a weekly public affairs program broadcast on SiriusXM's POTUS channel as well as Rhode Island PBS. The show is part of a broader Pell Center initiative to study, celebrate, and tell stories that matter.
From July 2006 to August 2011, Dr. Ludes was Executive Director of the American Security Project (ASP), a think-tank in Washington, DC.  ASP was founded in 2006 to educate the public on a broad range of national security issues and the value of a principled approach to security.
From November 2008 to February 2009, Dr. Ludes was a member of President-elect Obama's Transition Team.  During this time he participated in the Agency Review Team working inside the Department of Defense (DOD) to identify critical issues that would need to be tackled by the new administration.  In January 2009, he took on the additional responsibility of running the confirmation team for DOD nominees selected for the roles of Deputy Secretary of Defense; Under Secretary of Defense for Policy; Comptroller; and General Counsel.
From 2002 to 2006, Dr. Ludes was Legislative Assistant to Senator John Kerry for defense and foreign policy.  During that time, he also coordinated defense policy issues for Senator Kerry's 2004 presidential campaign—assisting in the development of policies on military end-strength, force structure, and improved benefits for military families and veterans.
Prior to his work in the Senate, Dr. Ludes was Editor-in-Chief of National Security Studies Quarterly (NSSQ), a defense and national security journal.  During his tenure, Dr. Ludes transformed the NSSQ from a student-run journal into a professional publication receiving considerable attention in the media and the policy community.
Dr. Ludes earned his Ph.D. in history from Georgetown University.  His dissertation, A Consistency of Purpose: Political Warfare and the National Security Strategy of the Eisenhower Administration, was completed in 2003.  He is editor of, and contributor to, Iraq Uncensored (2009) and co-editor of two previous books: Attacking Terrorism (2004) and Twenty-First Century Proliferation (2001).  He is a native of Manchester, CT, and received his bachelor's degree in history and modern languages from Providence College in 1993.  Dr. Ludes is a former Term Member of the Council on Foreign Relations and was a Manfred Woerner Seminar participant in 2000.
G. Wayne Miller, Staff Writer, Providence Journal; Co-Host and Co-Producer, Story in the Public Square; Visting Fellow, Pell Center for International Relations; Author and Filmmaker
G. Wayne Miller is a Providence Journal staff writer and co-host and co-producer of the weekly Rhode Island PBS/SiriusXM Satellite Radio show Story in the Public Square. A filmmaker and author of 17 books, he is a visiting fellow at Salve Regina University's Pell Center for International Relations and Public Policy, where he is co-founder and director of the Story in the Public program, a partnership with The Providence Journal. Throughout Miller's journalism career, public-service writing, especially about children's and adult mental health, has remained his passion. Visit him at gwaynemiller.com