3/29/2019
Kevin Cooper, LRI's Strengths Expeditor, is off to the Sunshine State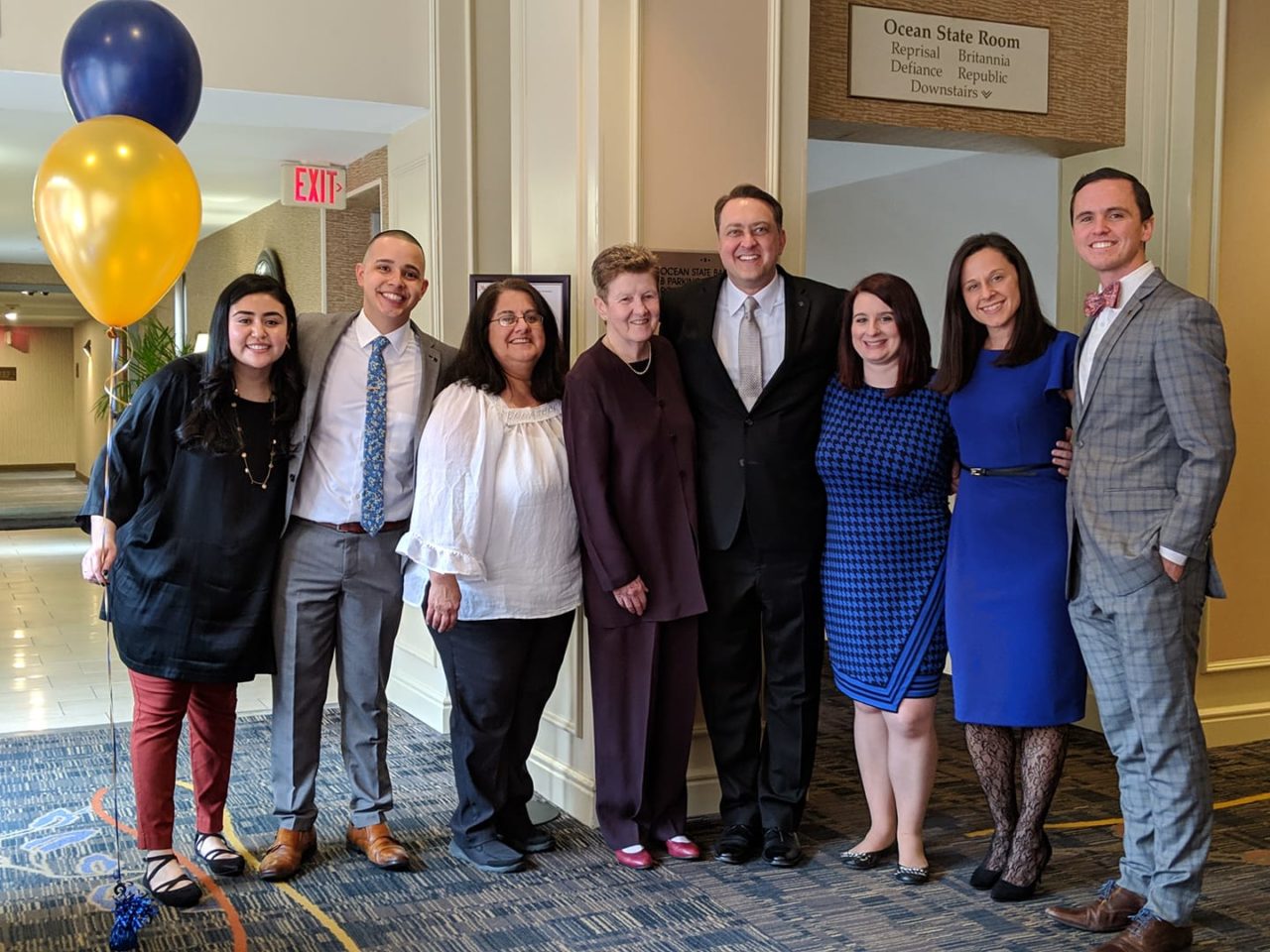 Through Leadership Rhode Island's (LRI) programming – Core Program, College Program, and Make RI Stronger – a lot of talent walks through our doors. We have the pleasure of observing and interacting with that talent and then hiring those we feel are the best for roles within our organization. Kevin Cooper, LRI's Strengths Expeditor, has been with Leadership Rhode Island since 2014 and is now off to new and exciting ventures in the Sunshine State of Florida. 
Before he leaves the Greatest Lil' State we asked him a few questions about his time at Leadership Rhode Island…
With many options fresh after receiving your MBA from Providence College, why did you choose to work at Leadership Rhode Island?
I interned at LRI the summer (2014) after my first year in the MBA program at Providence College and it changed the direction I thought I was going with my life. It opened my eyes to the nonprofit sector and showed me that I could be part of something that makes a positive impact on people and communities.
I was hooked. When it came time to graduate in 2015, I felt a deep responsibility to give back to the state that had given me so much (4 years at Brown and 2 years at PC). To my good fortune, Mike Ritz (LRI '07) came knocking in 2015 with the opportunity to join the LRI team full time and I jumped at it.
Looking back I'm reminded of when I left Ireland in 2009 to come to America and my parents said, "make us proud, and make a difference".

What have been your proudest accomplishments and greatest challenges as LRI's Strengths Expeditor, the first to have that title at LRI?

Accomplishment: There are so many highlights, which makes it difficult to choose. From being awarded the National Innovation Award from the Association of Leadership Programs to playing Fred Rogers on the main stage at Gallup's global strengths summit, from being highlighted by The Federal Reserve Bank of Boston to launching Rhody Strengths Tours with Jim Clifton, Gallup's Chairman and CEO, it has been an epic journey.
However, when I look back at what we've accomplished through Make RI Stronger, I'm extremely proud of the impact — from statewide results all the way down to individual lives that we saw transformed from this movement. Our whole lives we've been told what's wrong with us and that impacts self-esteem and self-confidence. What if we were told what's right with us? I believe it can change the world. And that's because I saw it change Rhode Island.
Challenge: My biggest challenge was my capacity to bring strengths farther and wider. One of my top 5 CliftonStrengths is Competition. That manifests as an insatiable desire to do more and better. While over 27,000 Rhode Islanders have had the opportunity to understand and leverage their strengths, there are so many people who haven't. Knowing that I didn't have the capacity to reach more people certainly kept me up at night.
How are you different today than when you first entered LRI? Have your experiences at LRI changed you personally or professionally?
As I expressed at our recent Luncheon, I (sadly) no longer have my mullet and mustache. Some sage advice from one of the LRI team members pushed me to professionalize my look. I think it was a smart move. At least my fiance Crystal thinks so!
But in all seriousness…LRI's tagline is "we make people into better leaders, and leaders into better people." We create spaces for people from all walks of life to bring their whole selves, where they can be understood and accepted without judgment. This leads to difficult conversations, but that's where growth and change happens – all in service to a better Rhode Island.
This is the very ethos that has pushed me to become more self-aware of my beliefs, how I relate to others, and who I want to be in the world. That has forever changed me, personally and professionally.
How do you think LRI has prepared you for your new position at BurgerFi? What are you looking forward to the most?
I've been fortunate that my LRI experience has pushed me to go beyond what I thought was possible for myself. I've had the opportunity to work with and learn from LRI's 58 strengths coaches, design and implement strengths trainings across every sector, enhance my knowledge of strengths psychology and employee engagement as vehicles to develop people and drive better business outcomes.
My position at BurgerFi will be "Leadership Specialist", where part of my responsibility will be to plan, implement, and scale new and existing leadership development programs for BurgerFi franchisees, operators, and employees to promote a welcoming, healthy, and energizing human resource influence for all.
I'm excited to immerse myself in a new environment, learn from my colleagues who know the industry inside and out, and apply my strengths every single day in service to the employees I will be working alongside.
What final message would you like to deliver to LRI's alumni and the greater RI community?

Gosh, so many things that could be said. For one, LRI's 40th anniversary is just around the corner (2020) so I hope to see alumni from every decade come together for this major milestone!
I would like to focus my message on what has been near and dear to my heart during my time at LRI: strengths.
It's easy to see CliftonStrengths as just an assessment, but it's so much more than that. My good friend, Marcus Jannitto (LRI '97), helped me see that strengths is a philosophy, a philosophy that can change the world. Because when people discover their inherent strengths, they begin to see others around them through that same lens. It changes the paradigm of how we view ourselves and others – moving from a deficit approach to a strengths approach.
If you haven't discovered your strengths, please do. If you have, give someone else in your life that same opportunity. Consider this quote from Jim Clifton, Gallup Chairman and CEO:
"What they used to say is that if you miss a bus it changes the rest of your life. Now once we figured that out it's really when you miss a bus you change the rest of the world, because we're all so closely interconnected…"
Don't miss this bus!
Lastly, I want to express my gratitude to LRI – the team, the Board, the extended family, and the community. You've changed my life. I'm forever grateful.
Sincerely, Kevin.