By Ashley Rappa, '19 | 3/20/20
Leading from the Front is Real

It's Thursday, March 19, 2020, and Rhode Islanders are hunkered down in their homes to halt the spread of the coronavirus. Workplaces have shut down, group gatherings have been disbanded, church services are cancelled for the first time in living memory.
And Leadership Rhode Island is hosting its first-ever virtual luncheon.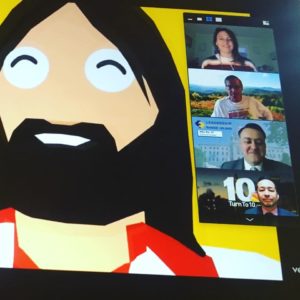 In the background, the Beatles sing "Come Together," the theme for LRI's yearlong celebration of the organization's 40th anniversary, as attendees sway and hum in front of their respective screens.
LRI Executive Director Mike Ritz '07 welcomes the gathering with humor. "How's everyone's food today? Good? I'll give your compliments to the chef."
The mood shifts, his tone serious. "At this moment, most of us are struggling right now in some form or another. We're social creatures … Even strong leaders like you need to keep learning from each other, vent, be consoled, and know most of all that you are not alone."
Creatively Convening 
Staging the luncheon via Zoom is just one of the many ways LRI is mastering virtual space to keep people tethered together while fostering trust and encouraging authentic sharing, necessary venting, consolation, and humor.
As social distancing, self isolation, and shelter-in-place become everyday terms seemingly overnight, Ritz and his LRI staff are leading one of the state's most high-touch organizations through a virtual transition, all while never losing sight of humanity.
In just a week's time, they've moved with lightning-fast speed to forge a new path for the organization itself, its 2,600 alumni, the 75 members in the current Pi II class, and the 47 students in College Leadership Rhode Island. LRI has even found the time to do what it does best–lead the way for others–by reaching far beyond state borders to encourage other community leadership programs to adapt to the new world order.
"Everyone is struggling. Everyone has fear. Everyone has anxiety in the face of the unknown. And these are the exact times when we must remain human centric," says Ritz.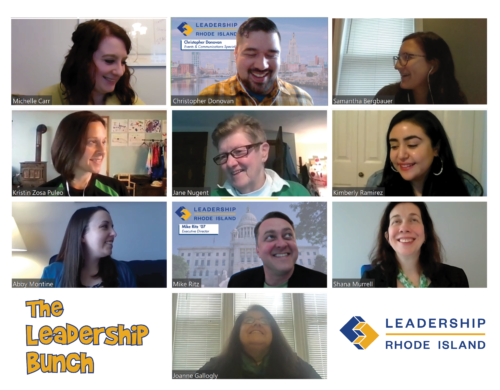 For the LRI staff—four determined newcomers and six seasoned members—the transition to working from home during an unprecedented time of crisis brought considerations, challenges, and a renewed commitment. There's Deputy Director Michelle Carr '14, with one-year-old twins and a parent with a compromised immune system and Kristin Zosa Puleo, with two school-aged girls disinclined to sit quietly all day, and Christopher Donovan, Events and Communications Specialist, who, as a self-described over-thinker, is learning to trust his instincts as carefully executed plans go out the window. And yet everyone finds themselves in the same central position—working together to find new ways for everything.
"The whole world is changing, and yet one thing remains the same: We must all push forward," says Ritz. "If ever there was a time for effective leadership, NOW is that time."
Which is why LRI is accelerating its traditionally furious pace. In the last week, staff has convened hundreds of people to share best practices, resources, information, feelings and fun. In addition to holding the virtual luncheon, events have included a virtual social with the current Pi II Class, one regional virtual meeting with Community Leadership Programs in Connecticut and Massachusetts, one national virtual meeting with leaders in 70 locations across the country, and an invite-only virtual meeting with 15 alumni executives of companies, nonprofits, and government agencies, representing over 10,000 employees.
These get-togethers are getting rave reviews.
After attending the virtual discussion with other executives, Scott Avedisian '97 , CEO of RIPTA, said, "Right now we need some beacons of hope to focus on. The actions and comments from LRI alumni are giving me that."
"Even in the midst of such a trying time, Leadership Rhode Island, true to form, gave me that space to be authentic and afraid," writes Kimberly Conway Dumpson, '19, Vice President for College Advancement and External Relations at Rhode Island College, another participant of the session for executives,  "Most importantly, for that brief moment, I was renewed and awe-inspired by the leadership of the folks in a state whose motto is HOPE. We will get through this because we have each other."
"In short, it was amazing," Steve Duvel '12, Senior Vice President of Gilbane's New England Division, effused after the same session. "For the first time in days I felt deeply connected with my community and got to see the remarkable displays of leadership throughout RI from all different sectors of the community."
Another virtual participant, Brooke Havens, Executive Vice President & Chief Development Officer of the United Way of Rhode Island and a Pi II current class member, sees these events as a much-needed respite from an intense project.
"This crisis meant that my team and I spent five full days setting up the United Way's COVID-19 Response Fund, and I've been so focused and steadfast that any semblance of normalcy has disappeared," says Havens. "I attended the luncheon and it felt great to see some familiar faces, learn from each other, and become grounded in the moment by connecting meaningfully."
Combating Loneliness
The yearlong theme "Come Together" was conceived as a way to decrease polarization and heal the chasm often found between groups and individuals with differing opinions. But as current events unfold, "Come Together" brings deeper meaning.
As an organization, LRI has been studying and researching loneliness for the past two years, waiting to launch the initiative when the time seemed right.  Months before anyone had ever heard of a coronavirus, LRI decided to ask this year's Pi II cohort to focus on decreasing loneliness in Rhode Island.  The almost prophetic decision positions LRI right where Ritz wants the organization: at the forefront.
Loneliness is not only a state, or even national, problem. In 2018, the United Kingdom appointed a Minister for Loneliness.  Loneliness, like coronavirus, is affecting people on a global scale.
"The question of decreasing loneliness seemed lofty before the pandemic. Now it can seem almost insurmountable," remarks Ritz. "But in this state and elsewhere, we are surrounded by the servant-leaders that the world needs now more than ever."
Going forward, one key question drives LRI's work: How can leaders combat loneliness in a time where being alone is paramount to safety?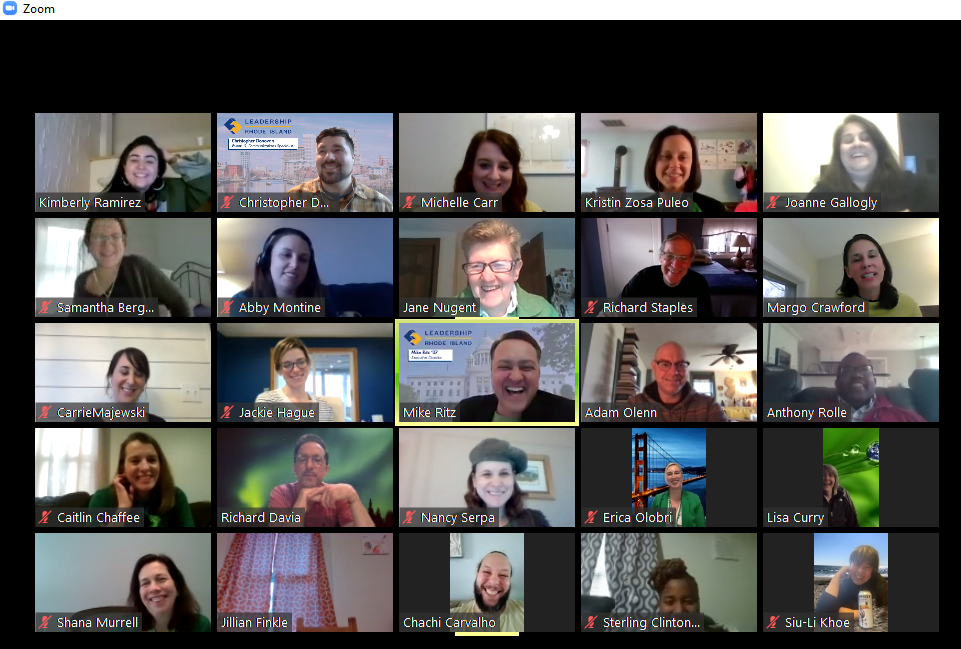 Yes, connection is critical, but the quality of those connections also matter. Hope is strengthened by laughter. Vision is clearer after rest. Leaders can only lead effectively if they have the space, time, and opportunity to refresh. Then and only then, they can get back to the vital work at hand.
"Know that we are not slowing down. Can't stop. Won't stop,"  Ritz says.
The word corona, in one of its most literal definitions, means a phenomenon that can only occur during the darkest and strangest of times. It is a pearly, eerie glow that surrounds the sun during a solar eclipse when the light of our sky's constant is obscured.
Though we are just at the beginning of what could become a long-term disruption to our lives, perhaps something can be learned from the eponymous anomaly. The situation ahead of us is daunting, and the light is dampened. But it has not disappeared. Together, we can kindle new connections and sustain existing ones. Together, we can be bolstered by acts of leadership as we come together to remind each other of a simple truth: We are not alone.
—
Leadership, Virtually: Working alongside the talented and exceptionally versatile Leadership Rhode Island team on this initiative is an alumnae team with expertise in journalism, communication, digital technology, and nonprofit excellence. They are charged with chronicling this time of bringing people together virtually to make connections and offer critical support.
Luann Edwards, LRI '19, is founder of Socially Professional, a social media marketing consultancy. You'll find her at the intersection of communication and technology, where some of the most meaningful connections are happening. As a strategist, she meets a challenge with a plan and tenacity. She's grateful to be a small part of the leadership that our state, and Leadership Rhode Island, is bringing to this unprecedented time.
Strategic | Learner | Context | Connectedness | Input
Jane Nugent, Ed.D. LRI '95, nonprofit professional in RI since 1982, believes in the power of nonprofit organizations to be the key problem solvers for society.  She has witnessed the power of Rhode Island community based groups provide the greatest good for the greatest number over a long period of time. She has worked with many groups in the state and knows that this time will be no different than difficult times past — they will rise to the occasion and lead the way.
Learner | Analytical | Individualization | Relator | Achiever
Ashley Rappa, LRI'19, founder of Human Writes Consulting and Director of Marketing & Communication at Lincoln School, is a writer at heart and a Rhode Islander by choice. At her best, she believes in the power of words to elevate our lives, and the deep beauty of human connection. At her worst, she still believes that, but likely needs more coffee.
Input | WOO | Communication | Empathy | Positivity

Carol Young, LRI '92, After 45 fabulous years at the Providence Journal, she bid adieu to the Fourth Estate.  Ten  years later, she still has printer's ink in her blood and welcomes opportunities to work with writers while  keeping her editing skills sharp.
Harmony | Achiever | Learner | Communication | Significance