By Leadership Rhode Island | February 2, 2018
Sen. John Roney (LRI '90) to Receive LRI Volunteer Award
Sen. Roney (LRI '90) will be recognized for his annual involvement in LRI's Government Session Day.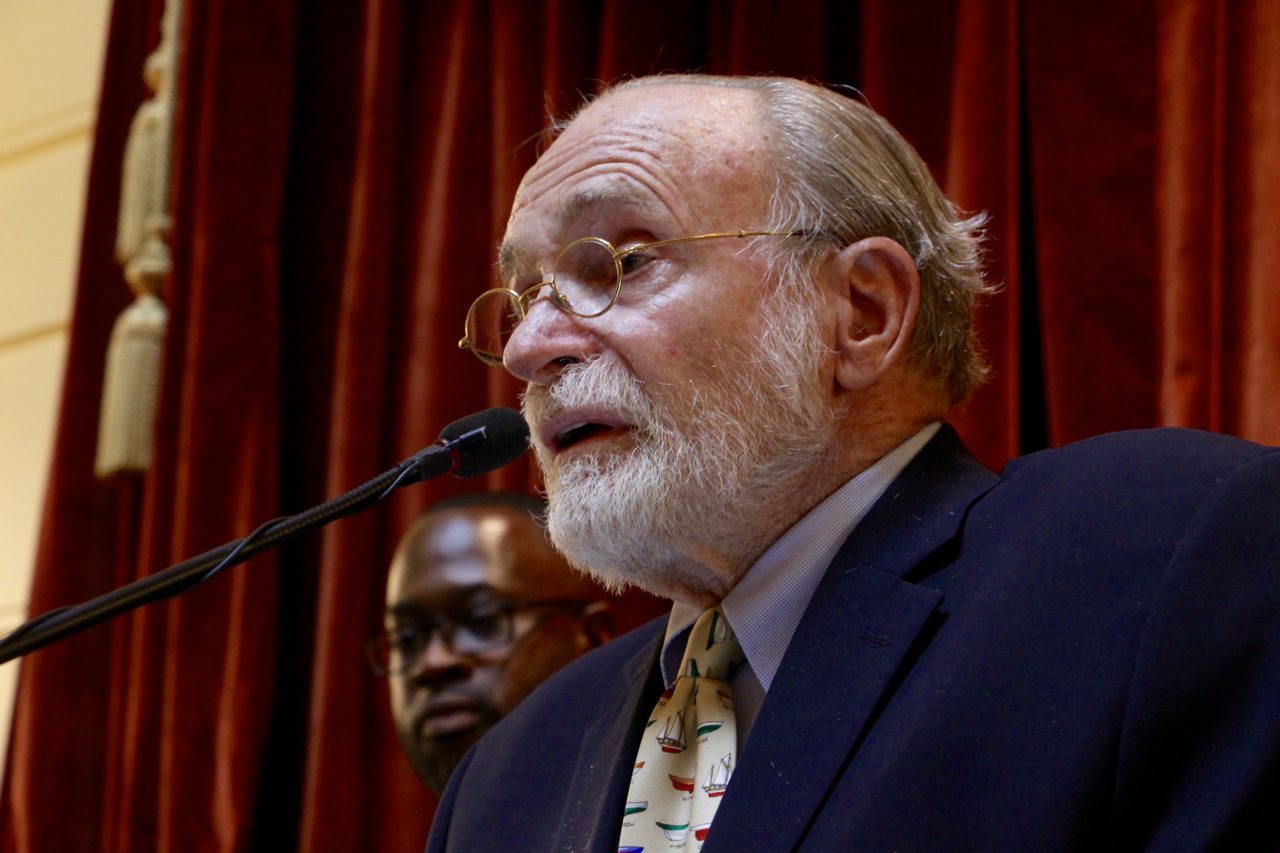 Sen. John Roney (LRI '90) will receive the 2018 LRI Volunteer Award for his decades of involvement on LRI's Government Session Day, where he has facilitated the General Assembly simulation and mock  floor debate for almost every class since the early 1990s
For the 30th edition of the Inspiring Leaders Awards Luncheon, Leadership Rhode Island is proud to recognize leaders in our community who have been effective conveners, facilitators, bridge builders, and alliance creators, in keeping with the 2018 theme of "Leaders as Hosts."
As defined by Margaret Wheatley, hosting leaders must:
Provide conditions and good group processes for people to work together;
Provide resources of time, the scarcest commodity of all;
Insist that people and the system learn from experience, frequently;
Offer unequivocal support- people know that the leader is there for them;
Keep the bureaucracy at bay, creating oases (or bunkers) where people are less encumbered by senseless demands for reports and administrivia;
Play defense with other leaders who want to take back control, who are critical that people have been given too much freedom;
Reflect back to people on a regular basis how they're doing, what they're accomplishing, how far they've journeyed;
Work with people to develop relevant measures of progress to make their achievements visible;
Value conviviality and esprit de corps– not false "rah rah" activities, but the spirit that arises in any group that accomplishes difficult work together.
Each participant of Leadership Rhode Island's Core and College programs has simulated a Rhode Island General Assembly session as part of their Government Session Day. For most classes, the man who has guided them through that exercise has been Sen. John Roney, RI Senate Parliamentarian, who has hosted the mock floor debate for LRI since the early 1990s. Over the years, he has served on various LRI committees, advised LRI staff, and participated in alumni focus groups. His involvement has enriched our programs and we thank him for his dedication to our mission. Leadership Rhode Island is honored to be recognizing him on March 22nd for the unique contributions he's made to our organization!
Please join us at the Providence Marriott Downtown as we celebrate Sen. Roney and the other leaders as hosts we've announced over the past week. Tickets and sponsor packages are available at lriluncheon.eventbrite.com.
Bio
John M. Roney has practiced law in Rhode Island representing clients before state and federal courts, and professional boards for more than 40 years. His practice areas include disciplinary cases before medical and legal licensing boards and the Ethics Commission; wills and trusts, and small business. He has also litigated numerous federal civil rights cases.
In 1994 he was elected as State Senator for the Second District of Providence for eight years, where he sponsored significant pieces of legislation, including a revision of the Uniform Commercial Code, and served as Vice-Chair of the Finance and Judiciary Committees. He currently advises the RI Senate as its Parliamentarian.
He was elected President of the RI Bar Association in 2003 and continues to serve in the House of Delegates and as Chair of various committees. The Bar honored him with the Community Service Award in 1995 and the Public Service Programs Certificate of Appreciation in 2009 for his tireless work with local charitable and civic organizations.
A native of Washington, DC, he received his Juris Doctor from the Columbus School of Law, which recognized him in 2004 with the Distinguished Alumni Award. He earned his undergraduate degree from Providence College and has lived in RI for more than four decades.