11/27/2018
Speaker David Graziano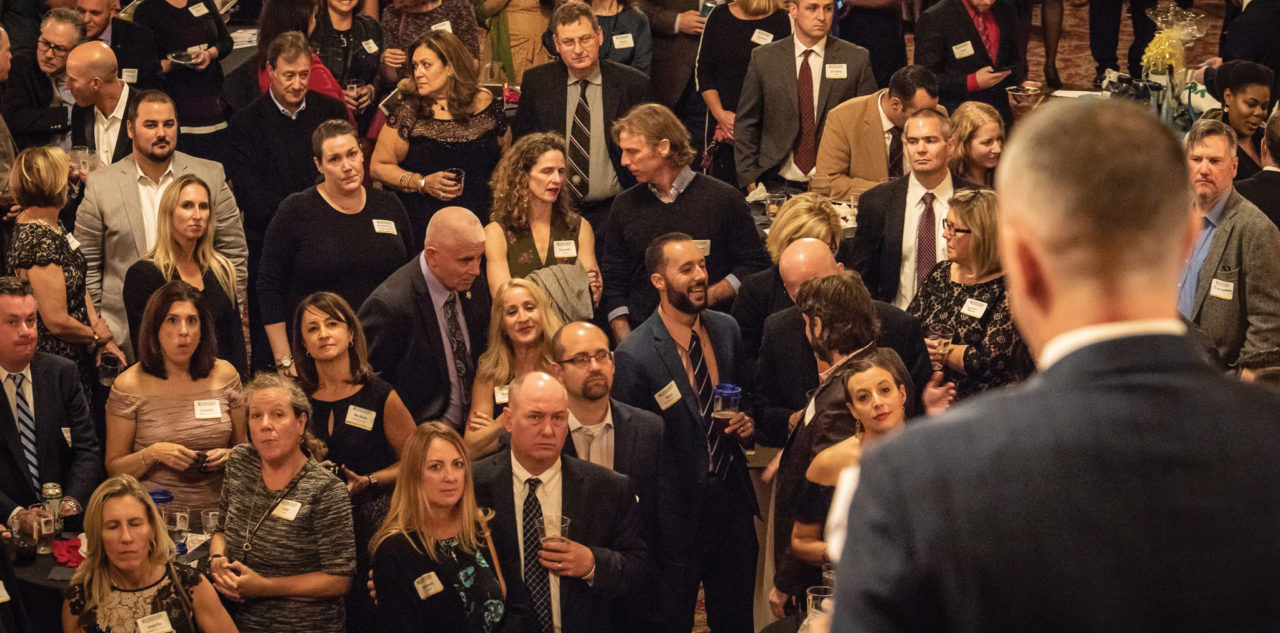 Learning at the eleventh-hour that the overnight retreat for the Xi IIs could not be held at URI's Alton Jones campus led, almost miraculously, to accommodations at the tony Gurney's Resort on Goat Island in Newport. Class members quickly dubbed themselves GOATS and created a new boast: They are not just the "best class ever," they are the "Greatest Of All Time."
Ten months later the GOATS elected David Graziano, Sr. Marketing Manager at CVS Health, class speaker. He had plenty to say at the Xi II commencement and he did it all with wit and a deep understanding of "Leaders as Hosts," the theme for the 2018 class.
Here are excerpts from his speech:
Listen. Learn. Lead. These three words — in that order — summarize the voyage of discovery we've been on these past 10 months.
Each time we came together, it was to LISTEN to a broad new topic; to LEARN from the experts and from each other; and then to decide how these experiences informed and transformed our ability to LEAD.
Who did we LISTEN to? At Jeffersonian Dinners we heard alumni speak of times they weren't the leader they expected of themselves. At monthly sessions, we heard from representatives of the business, non-profit and government sectors who helped us unearth challenges facing the state. And, working in teams, we engaged hundreds of stakeholders in discussions both inside the state and all across America.
What did we LEARN? A basic needs simulation opened our eyes to the grinding, soul-wrenching effects of poverty. A ride-along with Meals on Wheels turned me sideways as I met a 101- year-old woman, living on her own, not only in need of a daily meal, but also for the comfort of a friendly voice.
Many of us were deeply touched by conversations with immigrants who came in search of a better life for their families. While many have succeeded, the path for so many others is fraught with bureaucracy, and ever moving goal lines.
We found our inspiration for how to LEAD in Margaret Wheatley's essay "Leadership in the Age of Complexity – from Hero to Host." She challenges the "heroic" monopoly on leadership, suggesting it is time for the "heroes" to go home. In an age of complexity and interconnectedness, she writes, a new leadership model is needed, one in which the "host leader" brings together those with differing viewpoints and experiences to engage in an informed and respectful dialogue, one that ensures a more complete picture on which to base inclusive action.
One way is to generate ideas over a meal or some beverages. Any good Italian knows that! And, boy, did we ever eat and drink this year!
Many of us frequently sought each other out between session days. We met in our sub-groups to work and to socialize. We supported each other's professional and personal events. These touch points, and the bonds they forged, became regular occurrences.
Such discussions, it seems, are evaporating as tribalism takes hold. We seek out those with similar points of view. We embrace opinions without the supporting facts or coherent arguments. We follow media sources which present hardened positions we support and we disparage those who do not share them.
In short, our society has stopped listening, learning, and leading.
So, how did we, the Xi II class, meet the challenge of being "leaders as hosts?"
We listened and we learned throughout the ten months, especially when working on our team projects. We conducted research, spent energy and time examining diverse perspectives, defined the issues, scoped out opportunities and identified pathways to a better way. We came to understand the power of connections. We "hosted."
One might ask: Why didn't we just produce action plans to bring our solutions instantly to life?
I would posit that pushing hard to make the first idea the new reality would be the "hero's" route, one that is not well "hosted."
As host leaders we realize we don't have all the answers, but the work we've done can serve as prologue. Next year's cohort, the Omicron IIs, can take the information we've gathered, test possible solutions and ultimately deliver improvements to vital areas of concern in Rhode Island.
That is what I hope will endure beyond our 10 months together to make us truly the "GREATEST OF ALL TIME."