By Ray Nuñez | April 12, 2017
Strengthening Rhode Island's Future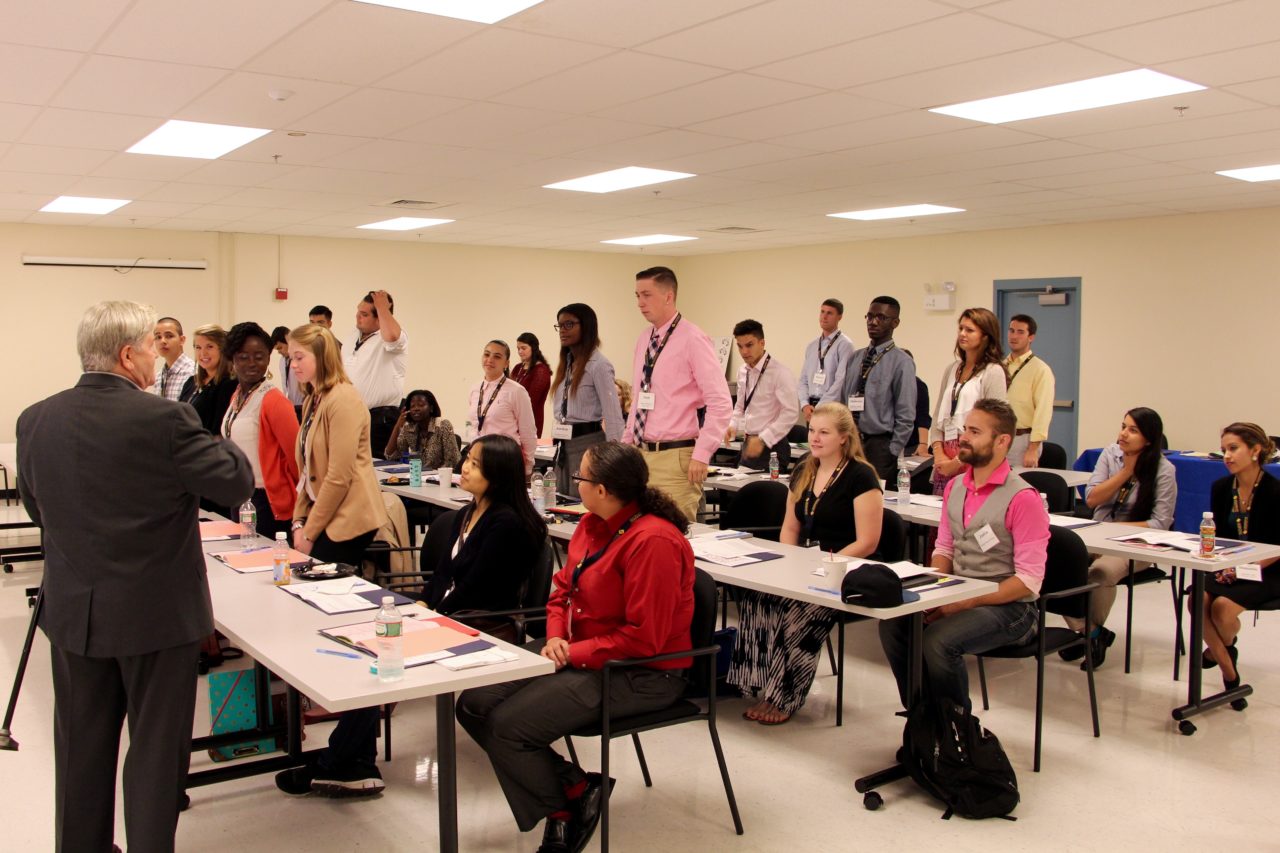 Leadership Rhode Island, now starting the fourth year of its Make RI Stronger campaign, is widening its scope to include the young people who will be the next generation of managers and workers.
"Placing an emphasis on developing the future leaders is a deliberate shift in focus for the Make RI Stronger initiative," says Kevin Cooper, Strengths Expeditor for LRI. "We saw that strengths was positively impacting companies and organizations in the state and knew it could be a game-changer for Rhode Island youth and the education sector."
When Cooper boasts of "positive impact" he is referring to the fact that more than 10,000 Rhode Islanders discovered their greatest strengths during the first three years of the Make RI Stronger initiative. Coincidentally, Rhode Island moved from 49th to first place in the nation on a key Gallup measurement of worker engagement, one asking whether they felt they had the opportunity to use their strengths at work.
Gallup, a partner in LRI's initiative, supports the idea of expanding strengths-based thinking to include young people. "Through decades of research, Gallup has found that when students and employees discover, develop, and use their strengths, they are more likely to be involved in and enthusiastic about their school and their work," writes Tim Hodges, Director of Research for Gallup's Education Practice.
The current lack of student engagement in school is stunning. Over time, Gallup surveys of more than 5 million students in the United States have found that student engagement drops with every year a student stays in the K-12 system – antithetical to what one would hope to happen.
In Providence, the Academy for Career Exploration (ACE) is determined to become the state's first strengths-based high school. To get there, the charter school is helping students, faculty and staff discover their innate talents and then develop them into strengths. ACE's new strengths-based approach is intended to change the way students and faculty look at themselves, and also how they interact with each other.
"It is immensely rewarding to see members of our school community light up like Christmas trees when they begin to discover their core make up and where their natural talents lie," says Dr. Mario Cirillo, Head of School at ACE and a 2015 graduate of LRI.
Cirillo, who has been involved in public education for half-a-century, is convinced that reliance on an educational model that is "inherently deficit-based" must be changed. "Schools," he says, "try to make students equally good at everything rather than identifying and cultivating natural talents." Instead, he says, schools should follow a new model, one that raises "student awareness of self" and coaches students "to puzzle out how they are wired naturally." That's the goal at ACE.
The re-thinking of education at ACE by integrating strengths into teaching and learning is being led by Luke Driver, Curriculum Director, and Vanessa Toledo-Vickers, Director of Operations, who is also an LRI graduate (LRI '01). Both administrators participated in LRI's Strengths Coaching Program in the summer of 2016, and are now LRI-certified Strengths Coaches.
ACE's strengths-based mission has attracted significant financial and mentoring support from Atrion — A Carousel Company. Atrion, a computer support and networking company, was founded by Tim Hebert, an early believer in the strengths movement. Hebert, now Chief Client Officer under the company's new owner, Carousel Industries, and Jorge Garcia, Senior Director of Professional Services, are also LRI-certified Strengths Coaches.
LRI is also working on other youth-focused strengths initiatives. For example, LRI's strengths coaches are working with the Boys and Girls Clubs of Pawtucket and Newport on a pilot program to bring strengths to the youth, staff and the Board of Directors at each club.
In higher education, Providence College embraced the strengths movement two years ago when it began offering the CliftonStrengths assessment to members of the entire freshman class.
Cooper, who oversees LRI's strengths psychology efforts, offers personal testimony to the value of knowing one's innate talents. "I took the assessment in college and it changed how I viewed and understood myself. Like many, I wondered how I would have been different had I been equipped with that knowledge in high school. We don't want the youth of today to have to wonder. We want them to start creating their future today."
As a follow up to taking the CliftonStrengths assessment, Providence College offers students workshops and student leadership positions that give them the opportunity to use their top strengths more intentionally. "The end goal is to have students fully identify with their strengths by the time they graduate and put them to use in the professional world," – says Patti Goff, AVP for Integrated Learning & Administration at Providence College
While Rhode Island is a "hot spot" in the strengths movement, there are other places where Gallup initiatives are changing how people and institutions approach education. For example, the University of Nebraska has opened the Clifton Strengths Institute where the goal is to identify and maximize "the talent of college students to guide their personal, professional, and leadership development through the use and application of strengths-based sciences."
Also, the Atlanta Public Schools System is partnering with Gallup to create an environment where 50,000 students and 5,000 teachers and staff can better understand their unique talents, shifting their culture from "what's wrong to what's strong."
"Adopting a strengths-based approach allows for a school and district culture that is less about correcting student and staff deficits and identifying weaknesses and more about capitalizing on strengths, developing practical skills and having rich experiences," says Atlanta's superintendent, Dr. Meria J. Carstarphen.
Success of the strengths-based approach at ACE as well as the other youth-focused initiatives under the Make RI Stronger umbrella could have a significant impact on the development of Rhode Island's students and ultimately promises to produce stronger and more engaged individuals ready to enter the Rhode Island workforce.
"We are just beginning to scratch the surface, but imagine what a generation of young people could do armed with this knowledge and leading from their strengths," says Driver, the curriculum leader at ACE.
The late Donald Clifton, known as the Grandfather of Strengths Psychology, had a vision of what a strengths-based education system would be like. "Our greatest contribution," he once wrote, "is to be sure that every student, every day, learns and grows and feels like a real human being."
For more information about the Make RI Stronger initiative, please contact Kevin Cooper, LRI's Strengths Expeditor: kcooper@leadershipshipri.org or by phone at 401-273-1574 x111.