By Mike Ritz '07 | 12/16/21
"You Say Goodbye, I Say Hello", Recognizing Board Transitions
Recognizing the extraordinary contributions by our departing board members and welcoming in our newest board members.
Leadership Rhode Island's Board of Governors is an exemplary reflection of LRI – a high achieving group of leaders from the private, nonprofit, and government sectors who have a deep affinity for LRI, the strongest commitment to the betterment of Rhode Island, and a propensity for action.
Collectively, they engage in our mission and our vision differently, rooted in the diversity of their backgrounds, experience, and expertise; but always civilly and in service to Leadership Rhode Island as seasoned professionals. They are the pitch perfect microcosm of our now 2700+ alumni network and, like the many cohorts LRI brings together, they grow quite fond of each other during their time on the board. It's professional and personal. And so when alumni depart from board service at LRI, we miss them.
The board terms for Mitch Edwards (LRI '11), our outgoing Secretary, and Steve Duvel (LRI '12), our outgoing Vice Chair, have expired.
Steve and Mitch have gone above and beyond their expected board duties, creating LRI opportunities around every corner, stewarding relationships and partnerships that will last for many years to come, aiding in our organizational learning and growth, and personally helping me further develop as a leader, better human, and executive director. I value their leadership and their friendship.
So when you see Steve and Mitch, please thank these two gentlemen – leaders of the highest order – for their dedication to service, passionate actions for Rhode Island, and their stalwart championing of LRI. We will miss them around our board table, but remain comforted knowing they'll continue to support LRI and carry our mission in other ways. I can unequivocally say, we wouldn't be where we are today without them.
On behalf of our board, staff, and alumni…
Thank you, gentlemen.
Now, for our new members…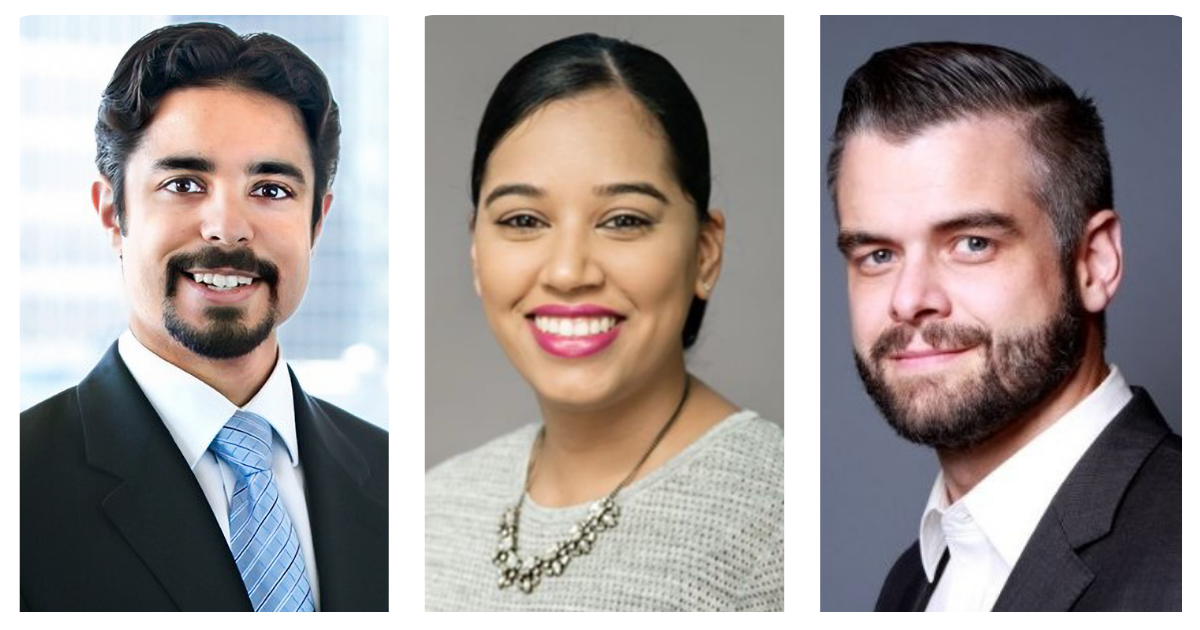 With all the gratitude above new members like and Hamza, Priscilla, and Greg may feel that they have big shoes to fill, but they walk tall all on their own. Their talents, experience, passion, and affinity for LRI's mission will serve us well, as they take their rightful seats to continue our journey. We are stronger than ever with them by our sides.
Please welcome them!
Hamza Chaudary (LRI '17)
As a shareholder at Adler Pollock and Sheehan, Hamza helps clients achieve their business objectives and goals through custom-tailored legal solutions. He represents clients in a wide range of civil matters in state and federal court. Hamza has significant experience in cases involving real estate, land use and zoning matters, including all phases of development and permitting. Moreover, Hamza has successfully litigated land use and zoning matters in the Rhode Island Superior Court and Supreme Court, including winning a case on behalf of a client on a matter of first-impression. Hamza also uses his prior real estate experience in delivering results for clients in municipal tax appeal cases.
Hamza is civic-minded and is committed to serving the community. In 2009, he coordinated a highly acclaimed symposium highlighting violence on college campuses and the appropriate institutional responses in light of the Virginia Tech tragedy and other events.
Priscilla Gonzalez-Santos (LRI '17)
Priscilla Gonzalez-Santos is the Human Resources Manager at Edesia, a 501(c)3 nonprofit organization and manufacturer of fortified peanut-based foods that help treat and prevent malnutrition in children worldwide. As the head of human resources for a team of 100+ Rhode Island-based staff, Priscilla oversees talent management, performance management, employee relations, benefits, compensation administration, and compliance.
She has volunteered for a number of causes, including supporting the creation and ongoing management of Runway for a Cure, an annual event held to raise funds for the Lupus Foundation of New England.
She holds a B.A. in Communications, a minor in Women Studies from Rhode Island College and a certification in Human Resources Management from Bryant University. She is an alumnus of Leadership Rhode Island (Nu II Class) and an active member of the Society for Human Resource Management (SHRM) of Rhode Island.
Greg Garvin (LRI '08)
By day, Greg Garvin is a Preconstruction Manager and Purchasing Team Leader for Gilbane Building Company, a 150 year old, family-run, multi-national Construction Management firm. In his role he brings his eye for risk management and strategic thinking to ensure that large, complex construction projects are set up for success.
Greg received a BS degree in Construction Management with a minor in Business in 2006 at Roger Williams University in Bristol, Rhode Island. Dedicated to reinvesting in his alma mater, Greg has sat on the CM Professional Advisory Board at Roger Williams for nearly a decade. Greg is currently the Vice-Chair of the Board and co-chair of the Academic Committee where he enjoys arranging and leading guest lectures that accents the curriculum with valuable industry experience. Greg also serves on the Board of Governors for Saha Global, a 501(c)(3) organization that helps entrepreneurial women provide safe, clean drinking water to rural villages in Northern Region of Ghana.
In life, Greg is passionate about rootedness and the power of place, which he attributes to his upbringing on a 3rd generation dairy and beef farm in rural New Hampshire. He believes that local communitarianism is the key to resiliency in the face of current and future social, economic and climate challenges. Greg is a member of Strong Towns and Southside Community Land Trust, and his hobbies include gardening, enjoying the outdoors, reading, and listening to podcasts & music.