By Leadership Rhode Island | January 28th, 2018
John C. Gregory (LRI '94) to be Honored as "Leader as Host" at 30th LRI Awards Luncheon
Third in a series of honoree announcements. More to come!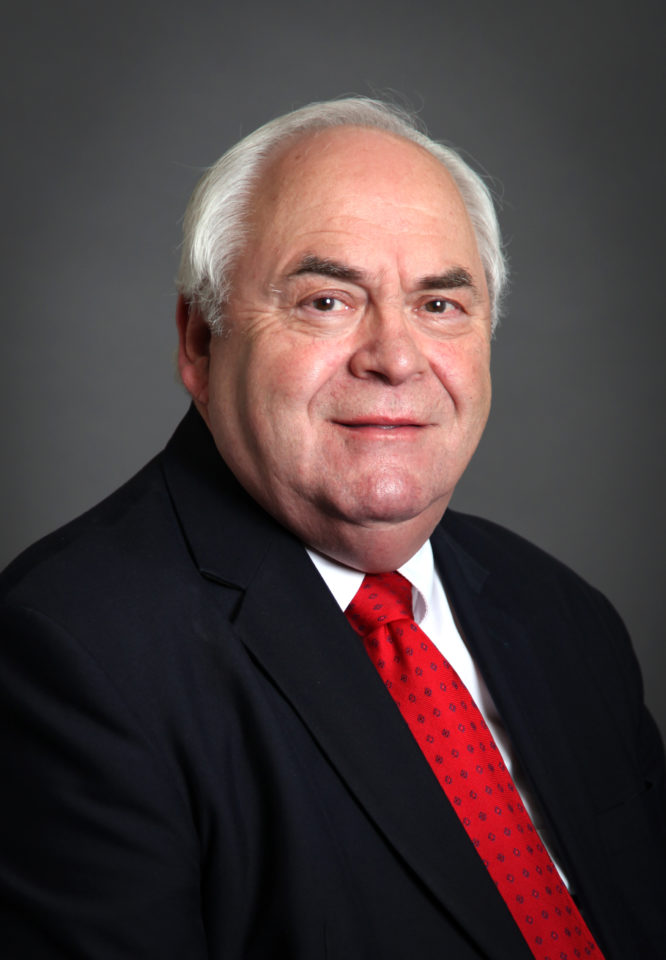 John Gregory (LRI '94) will be recognized for his decades of leadership at the Northern Rhode Island Chamber of Commerce
For the 30th edition of the Inspiring Leaders Awards Luncheon, Leadership Rhode Island is proud to recognize leaders in our community who have been effective conveners, facilitators, bridge builders, and alliance creators, in keeping with the 2018 theme of "Leaders as Hosts."
As defined by Margaret Wheatley, hosting leaders must:
Provide conditions and good group processes for people to work together;
Provide resources of time, the scarcest commodity of all;
Insist that people and the system learn from experience, frequently;
Offer unequivocal support- people know that the leader is there for them;
Keep the bureaucracy at bay, creating oases (or bunkers) where people are less encumbered by senseless demands for reports and administrivia;
Play defense with other leaders who want to take back control, who are critical that people have been given too much freedom;
Reflect back to people on a regular basis how they're doing, what they're accomplishing, how far they've journeyed;
Work with people to develop relevant measures of progress to make their achievements visible;
Value conviviality and esprit de corps– not false "rah rah" activities, but the spirit that arises in any group that accomplishes difficult work together.
Through his decades of leadership at the Northern Rhode Island Chamber of Commerce, John Gregory has had a tremendous impact on the local community, expanding the Chamber's territory to cover the largest geographical region in the state and founding the Rhode Island Chamber of Commerce Coalition, which now represents nine local Chambers. He is a graduate of Leadership Rhode Island's 1994 Xi class and has been a true LRI champion for many years, dedicating many hours of time (the scarcest commodity of all, according to Wheatley) and service to the organization. Leadership Rhode Island is proud to recognize him on March 22nd for the great impact he's made on our state!
Please join us at the Providence Marriott Downtown as we celebrate John and other leaders as hosts who are yet to be announced. Tickets and sponsor packages are available at lriluncheon.eventbrite.com.
Bio
John C. Gregory is President/CEO of the Northern Rhode Island Chamber of Commerce (NRICC), a position he has held since September 1992.  Mr. Gregory's thirty-two years of Chamber experience is the longest tenure of any chamber professional in New England.  His previous Chamber experience includes Director of Membership Services for the Cranston RI Chamber of Commerce and Vice President of Membership Services for the Greater Providence Chamber of Commerce.
As an inclusive leader, he was the catalyst for forming a coalition of five Chambers for lobbying purposes that was formed in January 2000 that has since grown to ten chambers.
He is also a founding member of the RI Business Coalition, a group of over 30 business organizations also formed for lobbying purposes.
Gregory sits and has sat on many boards and committees including,  Co-chair of the Workforce Development Task Force of the Rhode Island Small Business Administration Summit, the Committee of 100 of the U.S. Chamber of Commerce, The American Chamber of Commerce Executives Board of Directors, the Pawtucket Foundation, the Blackstone Heritage Corridor, The Rhode Island Career and Technical Education Trust Fund, RISE Mayoral Academy, and the Governor's Workforce Board for the State of Rhode Island where he also serves a chair of the Strategic Investment Committee.
Gregory is past president and former Board member of the New England Association of Chamber of Commerce Executives and in 2002 was chosen as Executive of the year by that group.
Among other awards he has received is the RI SBA District Director's Award. the Pawtucket Kiwanis Citizen of the year, The Blackstone Valley Tourism Council's William Blackstone Award , Grand Marshall of the Woonsocket Autumnfest Celebration, The Morris J. W. Gaebe Profile in Excellence Award and the Rhode Island Hospitality Association Hospitably Ambassador of the Year.
He also served on the faculty and was a national Director of the U.S. Chamber's Institute for Organization Management Leadership Program.
Gregory has addressed many organizations and conferences regionally and nationally. He has worked as a consultant for chambers and other non-profits throughout the Northeast facilitating Board retreats and speaking on Board governance. Gregory lives in North Smithfield with his wife Barbara and has two children and five grandchildren.