4/05/2022
Leaning in to the Future – 5 Questions with Teresa DeFlitch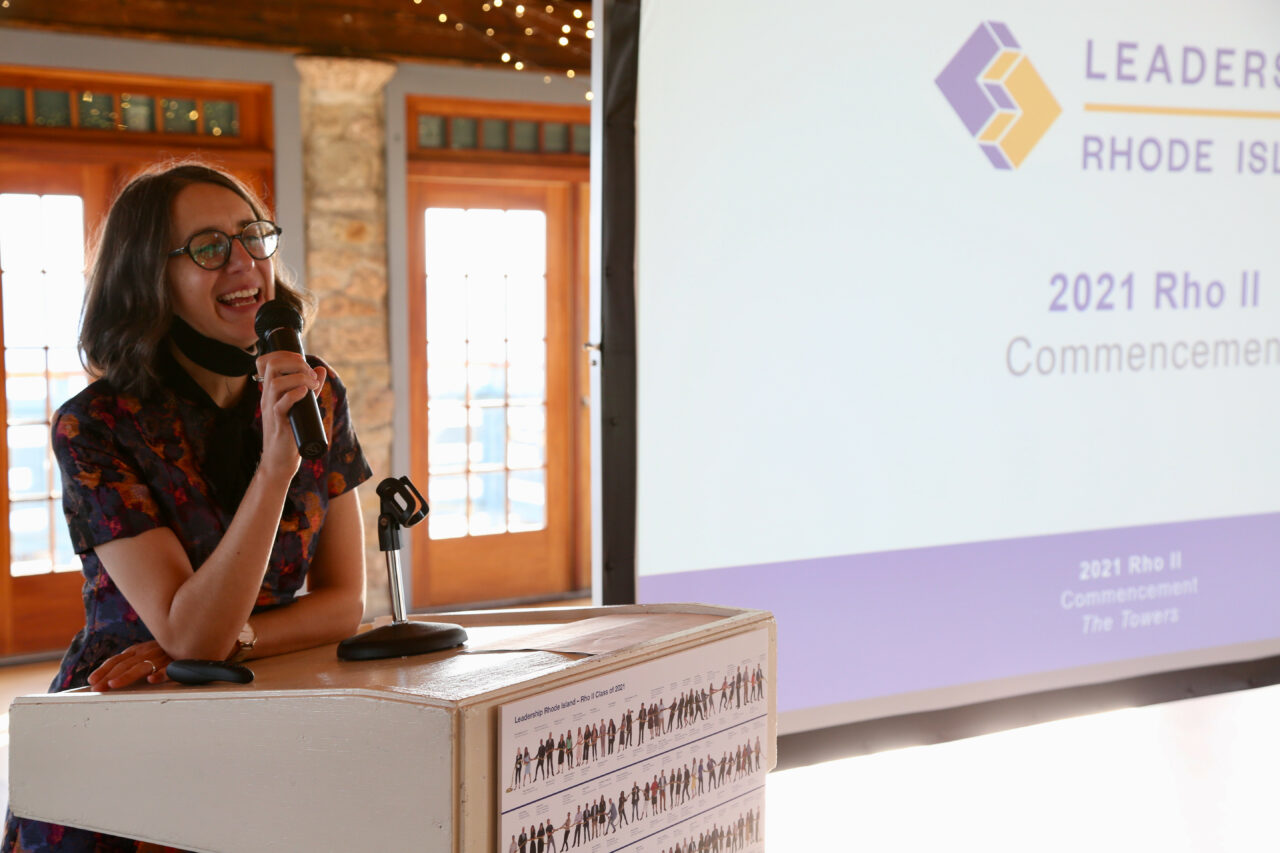 You have a unique range of experiences including program creation for historical research and interpretation, reimagining K-12 curicula, and the development of a people-centered team environment for a whiskey distillery. How have those experiences prepared you for this role?

When I was young, I loved playing travel agent. I sat near a window and pretended I had a drive-thru travel agency, where a pretend car would arrive with pretend people and I would open the window and ask them all kinds of questions about their interests and passions, and what types of food they liked to eat, and were they the type of people who wanted to see the sunrise? Then I would pull out travel brochures I sent away for and I would give them instructions on where to go, an entire personalized itinerary, and send them on their way to Wildwood, New Jersey or Virginia Beach (my world was much smaller back then!) and I would be so excited for these imaginary people and so happy that in some small way I helped them experience the world differently. If you look at my career, it's rooted in the art of creating transformative experiences, to take on the challenge of understanding multitudes of perspectives, and putting together places, people, and prose to help others grow in kindness and curiosity, no matter the setting or subject matter. I'm grateful for having had the opportunity to do this in so many different ways, whether in non-profits, schools, or businesses. I have experimented a great deal and learned a lot along the way, all of which I hope comes to life as I grow more into my role at Leadership Rhode Island. 
The way we learn, communicate, and connect has undergone a dramatic shift since March 2020. How can people continue to develop and build meaningful connections and relationships in an increasingly isolating virtual or hybrid world?
I don't agree that we are in an increasingly isolating world, but experiencing a time when established ways of being related to how we spend our time, care and relate to each other and the natural world, and what we value, can be isolating. However, all around me I see people choosing different futures. I walk along the beach in the early mornings and I often cross paths with a man and his two dogs, and every morning we say hello and although I don't know his name, I always look forward to seeing him. During one walk on a particularly icy morning I came to an inlet that was partially frozen and a bit wide for me to cross without a jump. I desperately wanted to continue my walk, but I was afraid I would hit the edge of the ice on my ascent and fall. In the distance, I saw the man and his dogs and before I knew it he was directly across from me with his arm reaching out. I grabbed his hand, took a leap, and made it across with his help. I thanked him and we wished each other a good day. This small interaction brought me great joy and reminded me of a passage by Thich Nhat Hanh I gravitated towards during the early days of the pandemic and that first came to mind when considering this question. He writes, "From time to time, sit close to the one you love, hold his or her hand, and ask, Darling, do I understand you enough? Or am I making you suffer? Please tell me so that I can learn to love you properly. I don't want to make you suffer, and if I do so because of my ignorance, please tell me so I can love you better, so that you can be happy." To live this concept is challenging, but if you really lean into it, it guides you in creating deeper connections with everything around you and demonstrates that even the smallest tending of one another can bring the greatest happiness.
While the heart of the Core Program has remained consistent over 40 years, each class' composition and experiences are completely unique, reflecting varying leadership priorities and the current issues of Rhode Island. How do you see the program evolving this year?
The historian in me loves the history of the Core Program and the different traditions, activities, and themes that have impacted so many over the years. It's an honor to continue these traditions, but also exciting to consider adjustments that we think will make the program even more transformative. For example, we shifted the usual chronology of the days (i.e. economic development is now the final session, rather than the first) to create a sequence that we think will allow for more connectivity from one session to the next. The adjusted framework also includes unit concepts, such as sessions rooted in history and context, as a means of better understanding the present, or a focus on systems thinking. We are also experimenting with emergence (a systems concept), paying close attention to what emerges from the group and being responsive to such emergence, whether through customized enhancements or the way we structure activities during session days. Another addition is a network mapping component, in which we are using different digital tools to document and visualize the Sigma II community over time. Not only will this provide us and class members insights into how they are connecting so that we can effectively nurture the community, but it also allows us to talk more about impact networks, which we think will lead to better ways we can support class members to take action.
You recently moved to Rhode Island after 10 years in Pittsburgh. What made you fall in love with RI, and what is one place every Rhode Islander should visit the next time they're in Pittsburgh?
I blame an Evian bottled water advertisement that I ripped from a magazine in my early teens (and still have). It features a woman piloting a sailboat, stars bright behind her, the wind in her hair, and off to the side it reads – Stargazer: A life can be guided by many things. What is fleeting and artificial, or what is eternal and natural. Truth is, I wanted to be a fisherman. Putting aside the embarrassingly romantic nature of such a dream and the fact I get terribly seasick, I have always been drawn to the sea and how amazingly elemental it is, so it's not surprising I ended up in a place known as the Ocean State. After spending a summer interning at the Newport Historical Society and learning more about Rhode Island history overall, I was hooked, and I knew one day I would call this place home. 
Pittsburgh is a fantastic city! Take a tour of the Carrie Blast Furnaces. Situated along the Monongahela River, the Carrie Furnaces, which were a part of the Homestead Steel Works, are a rare example of pre-World War II industrial iron furnaces and speak to the dominance of Pittsburgh in the steel industry. It's a powerful place. I must also recommend stopping by Wigle Whiskey, where I used to work. Order a glass of Pennsylvania "Monongahela" Rye whiskey, a style of rye that once dominated whiskey drinking in America so much so it's referenced in Moby Dick, which brings me back to the sea, and my new found home in Rhode Island. 
What are you most looking forward to in 2022?
I'm excited to graduate the Sigma IIs, my first full year Core Program class, and to share more learning and laughter with my Leadership Development teammates Kim and Sam, as well as the entire LRI team. On the homefront, my son Silas is a young mycologist and ornithologist, so a glorious spring of foraging and bird spotting is on the horizon. I'm also looking forward to continuing my journey to becoming certified as a mindfulness teacher, and I have my heart set on learning archery. I'd say I'd love to learn how to sail, but I'm not sure I'll ever get past my seasickness, so I'll just have to lean into the wind from the shore.