4/5/18
Matt, LRI Alumni & Community Engagement Liaison, flies the Coupe
Coupe hired as Government Affairs Specialist at Citizens Bank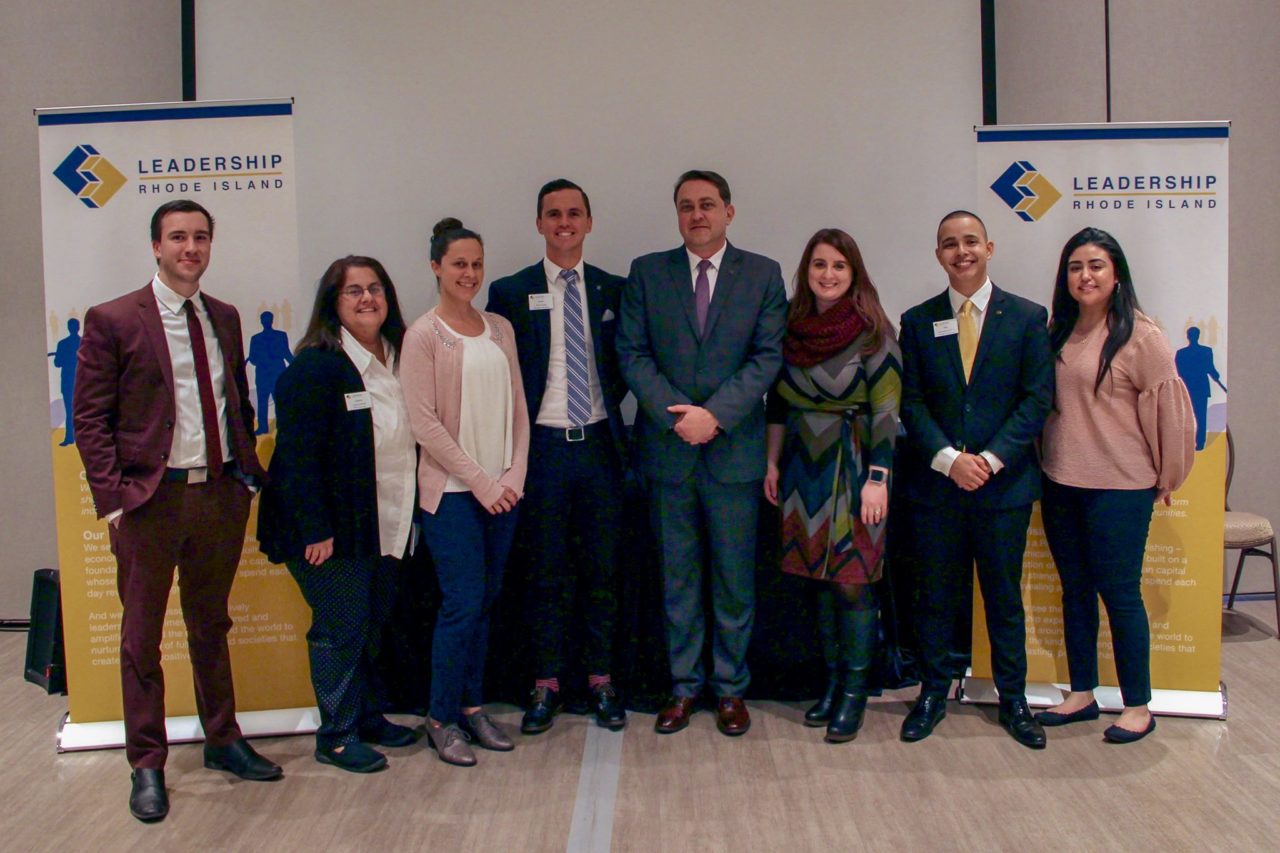 Through Leadership Rhode Island's (LRI) programming – Core Program, College Program, and Make RI Stronger – a lot of talent walks through our doors. We have the pleasure of observing and interacting with that talent and then hiring those we feel are the best for roles within our organization. One of the great talents who is exiting through those same doors as a valued employee of almost four years (one who is near and dear to our staff and many alumni hearts) is the ever-energetic and always-smiling Matt Coupe (CLRI '12), LRI's Alumni & Community Engagement Liaison.
We are sad to say goodbye, but we're comforted knowing Matt will surely stay an active member of our 2300+ alumni. Before he leaves to begin his new role with the 3-person government affairs team at Citizens Bank, we asked him a few questions about his time at Leadership Rhode Island…
With many options fresh after college graduation, why did you choose to work at Leadership Rhode Island?
It came down to two reasons- the relationships I had developed during my College Leadership Rhode Island (CLRI) experience in 2012 and the opportunity to do meaningful work for an organization that I felt was making a positive impact in Rhode Island.
Although I'm a native Rhode Islander, I spent my first few college years at Johnson & Wales University's campus in Denver, Colorado. While there, I had the opportunity to travel throughout Europe and South Korea, before ultimately deciding to transfer back home to the Providence campus in 2012. When I got back to Rhode Island, I realized the state had changed significantly since the last time I was home in 2010. Recognizing my desire to get more involved, a Johnson & Wales faculty member, Joanne Galenski, recommended that I apply for CLRI, as it was a "crash course" on everything Rhode Island.
I enjoyed my CLRI experience so much, and had such positive interactions with the LRI staff and alumni, that I stayed on as a volunteer for Leadership Rhode Island throughout 2013 and early 2014. Then, after graduating from Johnson & Wales with a business management and finance degree in 2014, I started looking for work at large financial institution in Boston, New York City, and Baltimore, as many of my friends were at the time. However, when LRI's executive director, Mike Ritz (LRI '07), called me with an opportunity to join the LRI staff as a Programs Coordinator, I jumped at the opportunity.
The ability to stay close to home and do work that helped create societal change made it a no-brainer!
What were your greatest challenges as the Alumni & Community Engagement Liaison, a new title that was created for you?
The first year was certainly challenging. I was transitioning from Programs Coordinator, a role that I was familiar with and comfortable in, to a brand-new position that I really didn't know much about. I had hardly any experience in fundraising, community relations, or event planning, and really had to learn by doing. While there were many times during that first year where I felt like I was treading water, I had great support from the rest of the LRI team, and found my groove by the start of year two, leading to 2016 and 2017 becoming record-breaking fundraising years.
What have been your proudest accomplishments during your time with LRI?
We've accomplished so much in the past four years, there's almost too much to choose from! From our record-breaking dues memberships in 2016 and 2017, to three successful (and fun) "Hi Neighbor!" statewide block parties, to the launch of our new website and online alumni database, to the revamping of our annual luncheon, it really is difficult to choose.
I think the one I enjoyed the most with was the very last event I worked on, our 30th Inspiring "Leaders as Hosts" Awards Luncheon. Not only was it a huge anniversary year for LRI's signature event, but it was my first time co-emceeing it along with LRI board member Mario Hilario (LRI '05).
For the first time in 30 years, we changed the format of the luncheon and adopted a late-night talk show, Johnny Carson-esque theme that was a lot of fun to host. It was our highest-attended and highest-grossing luncheon in at least the past five years, so I would say the new format was a success! The funds raised will support LRI's mission and help boost our tuition-assistance scholarship fund, and I'm proud to have had my last event be one of my most successful.
How are you different today than when you first entered LRI? Have your experiences at LRI changed you personally or professionally?
Well for starters, I have a much better haircut than I did four years ago. But I think in addition to that, that my experience with LRI has given me a broader view of the world, and certainly our state. I've learned the importance of convening and looking at each issue from multiple sides, and really listening to everyone's unique perspective, even if I don't agree with it. No matter our differences or backgrounds, we all care about Rhode Island and are committed to making it the best place it can be. I think when I first entered LRI, I was a bit more entrenched in my personal perspectives and opinions, and I feel like a much more well-rounded individual due to my time at LRI.
How do you think LRI prepared you for your new position at Citizens Bank? What are you looking forward to most?
I think what's prepared me the most for my new role as Government Relations Specialist at Citizens Bank has been the experiences I've had working with our Core Program participants and alumni. A huge facet of the Alumni & Community Engagement Liaison role was the ability to work well with others, especially those with high positions and titles within their respective companies or organizations. I was 21 years old when I started at LRI, and not many of my peers at that time had the opportunity to interact with that many CEOs, Executive Directors, and elected officials on a daily basis!
What I'm looking forward to the most about my new position, besides getting to continue to work with an awesome team of professionals, is that there's a great research function to the role. My top strength, according to Gallup's CliftonStrengths assessment, is Input, which means I enjoy researching and collecting information about topics I'm passionate about. As an ardent follower of political news and current events, government relations definitely hits that sweet spot.
Final words to the alumni you've served for almost four years?
If you're involved, stay involved, and if you're not involved, get involved! LRI is experiencing an incredibly exciting period of growth and expansion, and the need to build capacity is more important than ever. I'm excited for the launch of LRI's alumni advisory Cabinet this month and would encourage all alumni to find a way to support the organization, whether financially, through volunteer work, or both. The success of LRI's mission depends on the consistent support of our 2,356 alumni. It's been my great pleasure to work with many of you over the past four years, and I'm looking forward to staying involved as an engaged alumnus myself!