02/07/20
Navigant Credit Union announces sponsorship of CLRI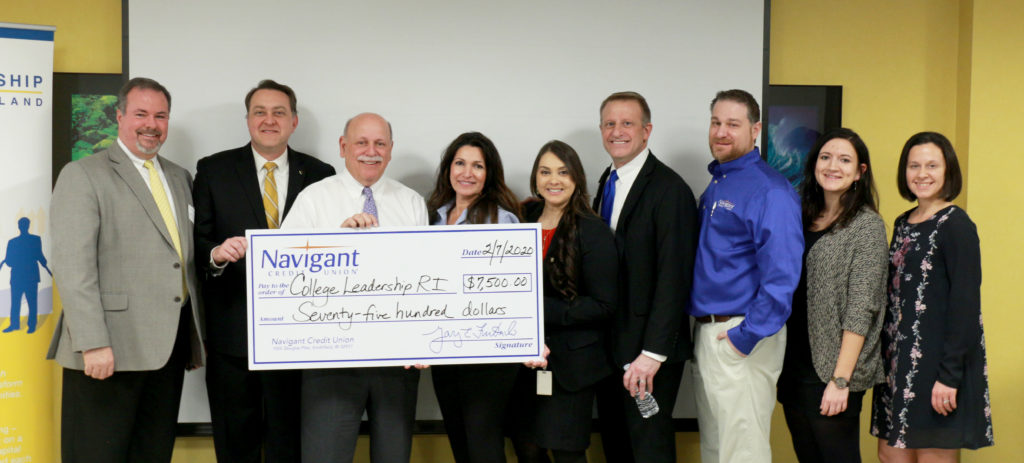 Navigant Credit Union President & CEO Gary Furtado made the announcement at the CLRI Financial Wellbeing & Philanthropy session, hosted at the credit union's headquarters in Smithfield, RI.
Left to right: Tim Draper (LRI '19), Mike Ritz (LRI '07), Gary Furtado (President & CEO of Navigant Credit Union), Martha Correia (2020 Pi II), Sandra Cano (LCF), Randy Sacilotto (LRI '04 & LCF),  Dave Pellegrino (LRI '15), Samantha Bergbauer (College Program & Alumni Coordinator, LRI), and Kristin Zosa Puleo (Director of Programs, LRI)
Navigant Credit Union proudly announces an initial 3-year sponsorship of the College Leadership Rhode Island (CLRI) program, an initiative of Leadership Rhode Island (LRI).
The academic-year-long (September-May) CLRI program provides students with the knowledge, skills, and networks necessary to develop their professional lives and build a future as engaged Rhode Island citizens. Through experiential learning, students explore careers in the nonprofit, private, public, and philanthropic sectors, while developing soft skills and leadership competencies for the 21st century.
"For many years Navigant Credit Union has supported Leadership Rhode Island by sending members of our leadership team through the program" said Gary Furtado President and CEO of Navigant Credit Union. "We believe the College Leadership program provides our young people with a solid foundation they can build on, enabling them to better participate in the drive to make Rhode Island the best it can be."
"Because of sponsors like Navigant, we are able to offer Rhode Island students this unique experience at no cost." said LRI's College Program & Alumni Coordinator, Samantha Bergbauer. "This ensures that our cohort consists of a variety of diverse young adults without excluding anyone due to financial constraints."
Additional program sponsors include Amica, National Grid, Ting & Ian Barnard, and Maryanne & John Mulattieri.
Nominations and applications for the 2021 CLRI class are currently open and can be found at leadershipri.org/college-program. College students and recent graduates 26 years of age or younger, who are emerging leaders in their school, campus and/or community can apply or be nominated through Tuesday March 31, 2020.