6/28/2019
Adiós, ​Ray Nuñez, LRI's Communications and Engagement Specialist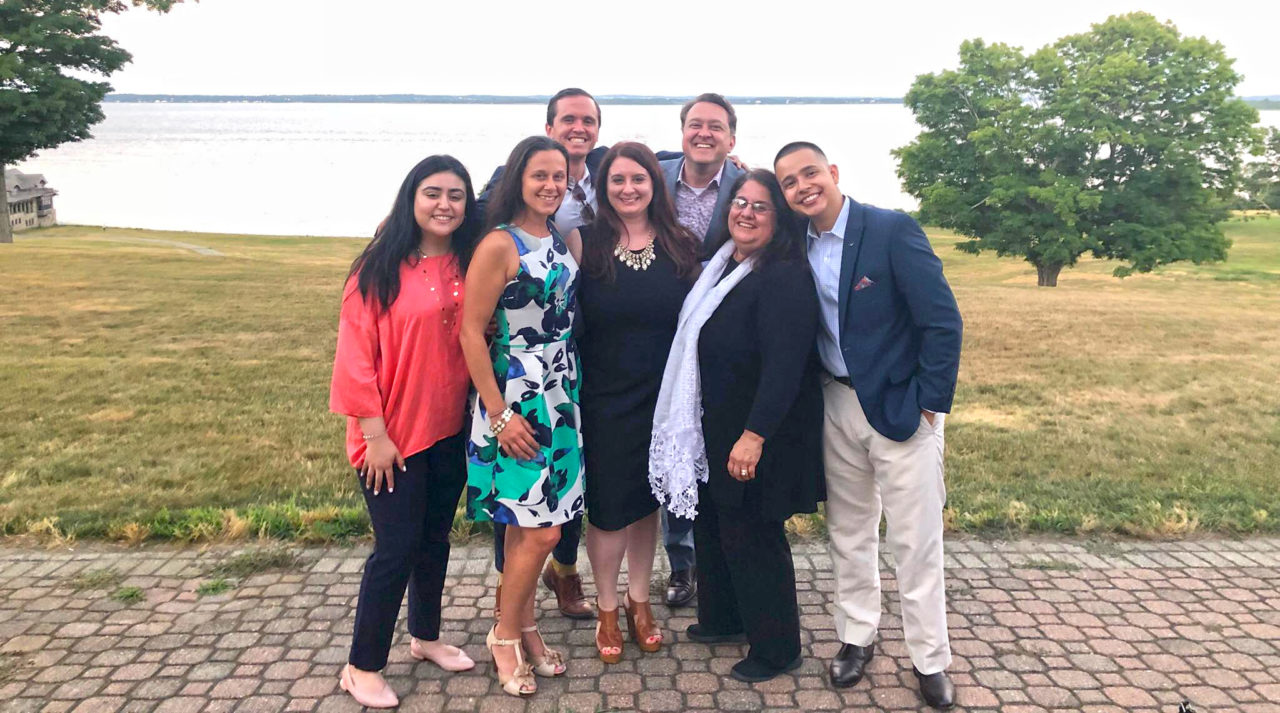 Through Leadership Rhode Island's (LRI) programming – Core Program, College Program, and Make RI Stronger – a lot of talent walks through our doors. We have the pleasure of observing and interacting with that talent and then hiring those we feel are the best for roles within our organization. Ray Nuñez was a participant in the 2015 CLRI Class and has served as a volunteer and staff member since 2016.
Before he leaves the team, we asked him a few questions about his time at Leadership Rhode Island… 
What attracted you to work at Leadership Rhode Island after graduating from college? 
When I stepped into my first College Leadership Rhode Island (CLRI) session back in 2015, I had very little interest in pursuing a career in the nonprofit sector. As a design and communications student with a passion for entrepreneurship, I was excited to embark on my CLRI experience to learn more about my potential for a future in the private sector.
In October of 2015, our cohort came together for our "Pathways to Service" session day, where we heard from nonprofit champions in Rhode Island; many of which were LRI alumni. Henrietta White-Holder (LRI '11) of Higher Ground International, Maria Kasparian (LRI '15) of Edesia, David Caprio (LRI '14) of Children's Friend, Zack Mezera (CLRI '11/LRI '17) of the Providence Student Union, Eileen Wisnewski (LRI '15) of Providence College, and Ting Barnard (LRI '15), LRI Board Member, all greatly impacted my life that day.
The way in which these leaders spoke about their lives and organizations, so full of love for their mission, so passionate in their roles, and so eager to wake up every day and go to work; was an inspiration for me to consider a more meaningful career path.
In the summer of 2016, I was sitting in my 'Fundamentals of Leadership' course at Johnson & Wales University, taught by Charlie Fogarty (LRI '88). I was sharing my transformative leadership experience in CLRI and encouraging my peers to serve their communities. That summer, Mike Ritz (LRI '07) called me and asked if I'd be interested in supporting their Make RI Stronger initiative by managing the social media channels and communication strategies. I saw this as an opportunity to use my talents to support an organization I cared deeply about, but also as a vehicle to serve my community by leveraging its potential and maximizing the strengths of our people.
This was my time to serve. 
What has been your proudest LRI accomplishment?
Tasked with the responsibility of enhancing the brand and communicating the successes of an organization that has been embedded in the community for nearly 40 years, is no small challenge. When I came onboard to improve our communication strategies, I knew that it would require a much deeper dive into identifying ways to improve how we engage our community, present our materials, and express our mission and vision; all efforts to build a stronger brand presence for Leadership Rhode Island.
My proudest accomplishment was transforming the way we presented ourselves, offline and online. Our print materials, our newsletter, our signage, our event collateral, and even our 13-passengers "Strengths Van" are now branded to reflect who we are and what we do. Our digital communications, our e-newsletters, our social media, our photo albums, our website, and all other forms of digital engagement are now consistent and aligned with our values.
All of these efforts, while appearing cosmetic to some, have drastically improved our public engagement. Folks throughout social media, outside of our state's borders, and those that were unfamiliar with our organization are now consistently reminded of LRI's role in strengthening Rhode Island and advancing our field as a Community Leadership Program.
This brand enhancement has led to increased attendance at our events, new prospects engaging with LRI, higher donor activity, global recognition for our programs, and has yielded greater loyalty and trust from our community.
I'm proud of the platform that LRI stands on and am happy to know that it was both an alumni and community co-creation that led us here.
What challenges do you feel LRI needs most to overcome at this point in our 39-year history?
The world of philanthropy is changing.

Upon diving into my current role, I was eager to take on the responsibility of fundraising, development, and managing our alumni membership campaign. I was fortunate to have had the support and guidance of industry professional alumni to empower me to lead successful fundraising campaigns. Since joining the board of the Association of Fundraising Professionals (AFP), I have grown keenly aware of the ways in which philanthropy is evolving and our sector's need to adapt to these shifts.
LRI has a difficult challenge ahead of itself to continue to share the story of its evolution and successes in order to remain relevant in this competitive world of philanthropy. We have to think critically about the role that we play in our communities, the impact our alumni network has, and the benefits that our programming delivers to Rhode Island. Most importantly, we have to package all of these stories and share them in clear, creative, and compelling ways.
What lessons are you taking into your future endeavors from your LRI experiences?

The leadership lessons I've gained through LRI as a participant, as a volunteer, as a contractor, and as a staff member have made me a better person.
This experience has made me adapt to rapidly changing environments, challenged me to have difficult conversations, demonstrated the value of efficient facilitation, and instilled in me great respect for servant leadership.
One of the most important lessons I've learned is to always lead with my strengths. I've gained such a deep understanding and appreciation for what makes me unique and the value that I bring to this world. Likewise, I'm now constantly seeking to bring forth those unique values in others. This positive language of strengths and this tool to identify potential is now rooted in my own personal philosophy.
Lastly, what would you like our alumni to know?

Leadership Rhode Island needs you now more than ever.

Your time, your talent, your treasure, and your expertise make a great impact on our organization's future. LRI is no longer just a singular programming organization – we're leaders in our field, we're pioneers in strengths-based philosophy, we're champions in social enterprise, we're convenors of communities, and we're developers of the next generation of leaders.
In order to continue to flourish; we need you. Join our alumni membership drive, sponsor our programs, serve on a committee, interview prospective applicants, become further engaged, and continue to make our organization proud.
It's been the greatest honor of my life to serve the 2,500+ LRI alumni and countless volunteers and supporters. To the LRI team, board, and community – thank you for this incredible opportunity.
Sincerely,
Ray Nuñez, CLRI '15