By Holly Jensen '08 | 11/26/2018
Shaping Rhode Island's future, one student leader at a time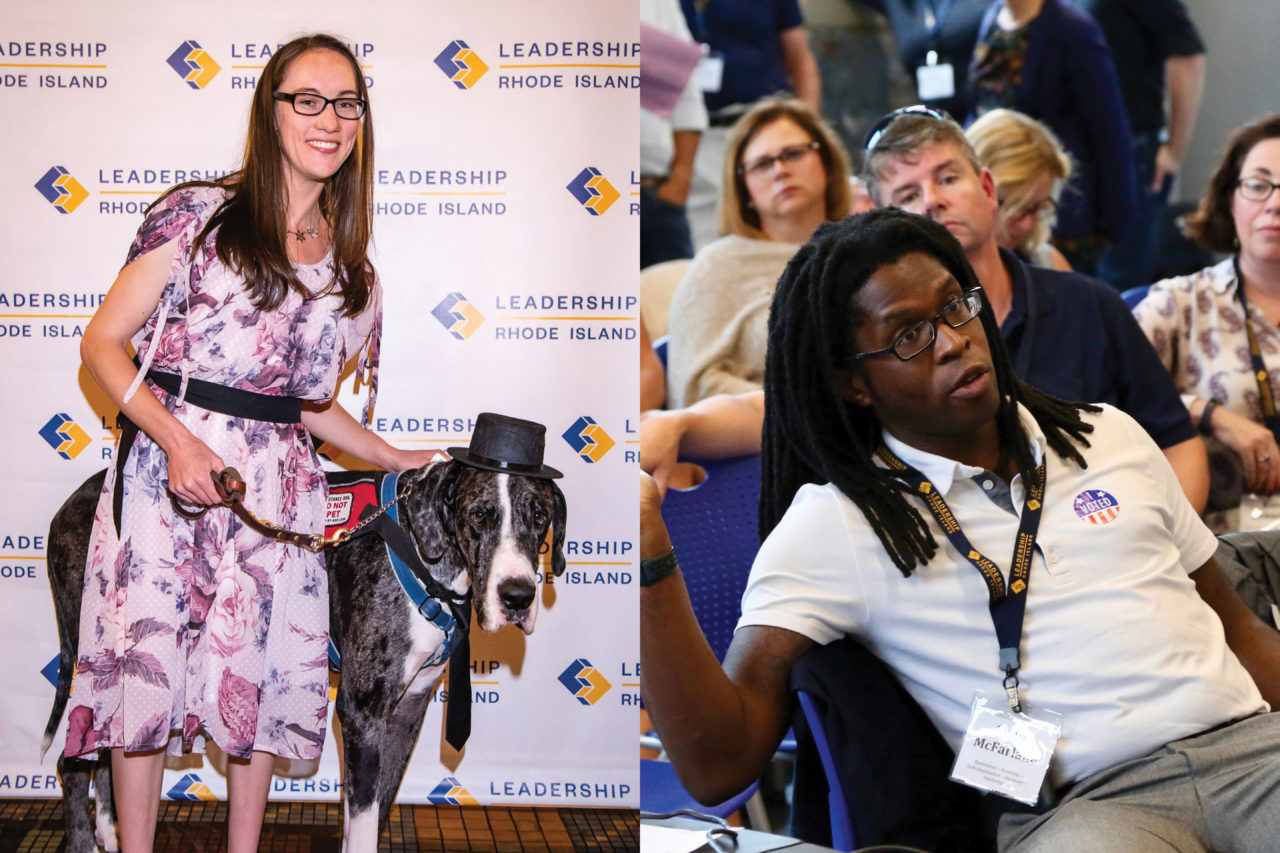 Launched in 2004, College Leadership Rhode Island (CLRI) continues to grow to meet the evolving needs of participants and the larger community. At its start, the program offered just four half-day sessions for fewer than a dozen students. This fall, CLRI launched its first full academic-year program for 49 participants, the biggest class ever.
To celebrate CLRI's 15th anniversary, here are two stories of recent alumni whose experience with the program helped shape their future.
Erica Brant, CLRI '16: Finding and Listening to Your Strengths
When Erica Brant walked into her first CLRI session two years ago, she had no idea what to expect. "I'd heard it was a great program, but I didn't know much about it. So I was ready for whatever," she said.
Little did the West Palm Beach, Fla. native know that CLRI would be instrumental in influencing her future, inspiring her to shift from pursuing a career as a baker to a public interest lawyer.
Brant, who lives in Bristol, and is a second-year law student at the Roger Williams University School of Law, came to the state to attend Johnson & Wales University (JWU) as a baking and pastry arts major. She started CLRI in the fall of 2016, a few months prior to her graduation.
At first, Brant didn't put a lot of value in the CliftonStrengths Assessment, a benefit offered to CLRI participants, until she received the results. Her top five strengths were identified as Intellection – Input – Futuristic – Learner – Harmony.
"It was a wake-up call and I started to question whether I should consider a career that was a better fit, something more intellectually stimulating and less physically demanding," she said.
Brant, who is 25 years old, was born with a physical disability, which made it hard, though not impossible, to keep up with her classes at JWU and various bakery jobs.
"I asked myself some tough questions, like 'Why was I pushing my body to the brink every day when physical strength wasn't my best attribute?' " That's when she realized that "you have to work with your strengths and not against them. CliftonStrengths solidified this for me."
Soon after, Brant enrolled in law school and she hasn't looked back.
She also credits getting to know other CLRI participants as a reason for choosing to stay in Rhode Island and pursue a career that gives back. "Being around a network of people who wanted to make a difference motivated me to want to help others. In the future, my hope is to encourage more people to value different cultures and embrace different perspectives," she said.
Chad McFarlane, CLRI '14: Taking the Roads Less Traveled
Right before Chad McFarlane moved to Rhode Island, he was a homeless teen in the rural town of Washington, Conn. He arrived here after reconnecting with his sister in Providence and he went on to complete an alternative diploma program and serve in the U.S. Army from 2002-2007, including two deployments in Iraq.
"I made some mistakes when I was younger and my life wasn't together. But I made a decision to step forth on my own … and if I can do it, then others can do it," said McFarlane, now 35 years old and living in Providence.
His unique journey is something he willingly shares, whether it's part of the commencement speech he gave during his graduation from the Community College of Rhode Island in 2014 or during casual conversations with fellow classmates.
"Sometimes we're told that we won't amount to much or that we probably shouldn't try. But you don't get just one shot to get it right," he said. "There's more than one chance to be a good person and live a good life."
McFarlane works as a veterans affairs coordinator at Electric Boat and is a year away from a bachelor's degree in applied economics at the University of Rhode Island. This year he participated in LRI's core program, one of the few to hold both CLRI and LRI alumni credentials. He is quick to acknowledge that his experiences have helped him succeed in his career.
"I was a nontraditional student, so I was a bit older than others in my [CLRI] class. And when you live long enough, you start going through the world with a certain amount of caution. Or you become jaded because of prior setbacks," he said. "But the other CLRI students looked at the world as though nothing was impossible and I really appreciated that."
He also thanks both programs for greatly improving his professional networking. "Now, when I walk into a room, I'm able to take a step back and assess the situation. I'll consider how to approach the different personality traits vs. making snap judgements," he said.
McFarlane plans to keep Rhode Island his home because, he says, there's still a lot of work to do. "I want to be a connector, a bridge builder and give people a voice, so that we can all move forward to make the state, and the world, a better place."
If you are interested in learning more about CLRI, please visit www.leadershipri.org/college-program for more information. If you are interested in having a CLRI student shadow you, please contact Kristin Zosa Puleo at kzosapuleo@leadershipri.org