By Christine McDermott '11 |
Xi II outreach to inform new class's projects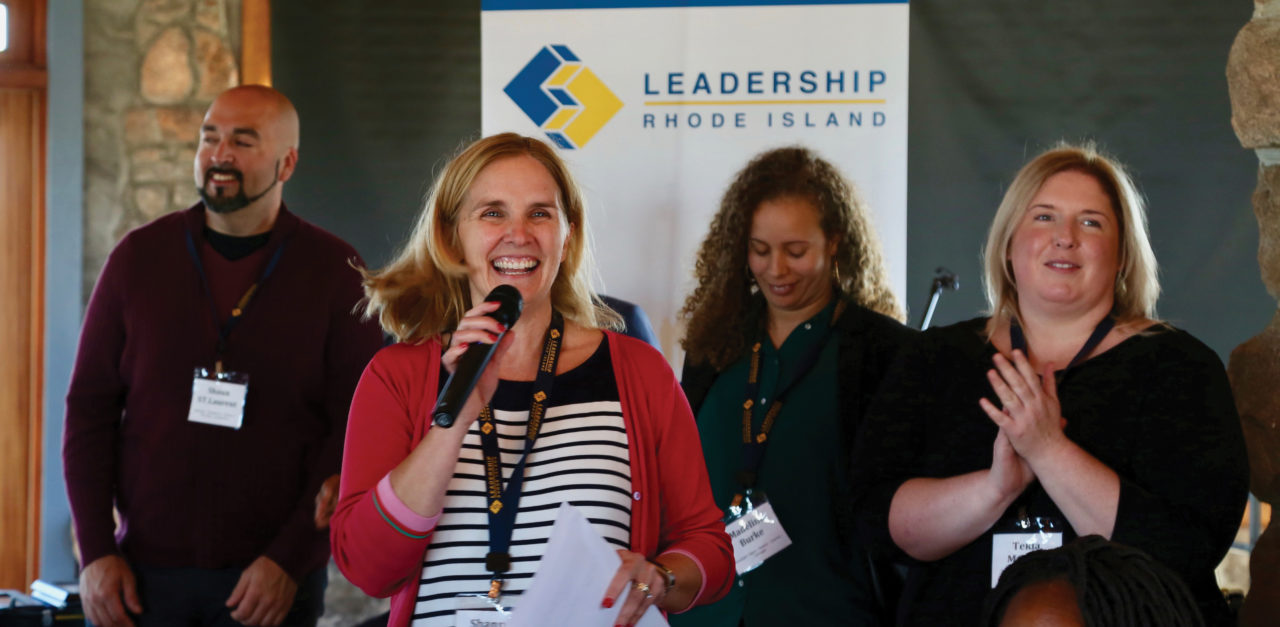 In a presidential election year, about 60 percent of Rhode Island's registered voters come out to the polls. In a mid-term election, the percentage falls into the 40s. Compare that to Colorado, which experienced voter turnouts of 72 percent in the 2016 election and 55 percent in 2014.
Looking to improve voter engagement in the Ocean State, a team of Xi II class members connected with Denver Director of Elections Amber McReynolds to find out how they've achieved such stellar results.
"Some things she talks about are having the elections team look at voters as customers – to improve the customer experience and make it easier," said Mike Thomas '18, Director of Supply Chain for Amgen. "They have drive-through voting; they're leveraging technology to advance all of the years-old voting processes. You can vote through electronic tablets placed throughout the city."
Thomas and his teammates will hand off their research and recommendations to the incoming Omicron II class, as will nine other Leadership in Action teams that focused on topics like Arts, Health and Education. The goal will be for the Omicron IIs to connect with Rhode Island leaders in each subject area and take steps to put the work of the Xi IIs into practice.
"You've created for the state of Rhode Island a fantastic needs assessment," Leadership Rhode Island Project Advisor Jane Nugent '95 told the class after they presented their projects at the October commencement.
From New York to Oregon and Texas to California, members of the Xi II class spent the past year reaching out to leaders around the country to identify change-making practices and present these opportunities to stakeholders in Rhode Island.
The Children/Youth team homed in on mentoring, noting that the need in Rhode Island is great.
"Think back to when you were young, someone who had a positive influence on your life," said Stefani Gallagher '18, Area Assistant Vice President for Arthur J. Gallagher & Co. "What would your life be like if you never met that person?"
Mentor Rhode Island and its partner organizations serve 5,000 children in the state, with a waiting list of 1,000. Noting that more than 40,000 Rhode Island children live below the poverty line, she said, "Imagine if they had access to a mentor."
For a model, the team looked to New York State Mentoring, whose success can be partly credited to the fact that it is championed by the governor and "had the political backing that engaged leaders in the community to rally around it," Gallagher said.
In a similar vein, the Legal/Criminal Justice/Crime/Incarceration team studied prison apprenticeships and found that support is needed from the private sector.
Laura Pisaturo '18, Chairperson of the Rhode Island Parole Board, said her team spoke to many stakeholders within Rhode Island: judges, the deputy chief of the attorney general's office, a public defender, folks at the prison and community groups that work with formerly incarcerated offenders on the outside.
They chose to focus on apprenticeships because "idle hands make for idle minds," she said. "We know that involvement in professional and social activities reduces delinquency and recidivism."
The team studied a program in Washington state that has had "a tremendous success rate of employment," Pisaturo said.
Rhode Island currently offers one apprenticeship program inside prison – barber training – but the cost of building out space and hiring instructors creates an obstacle to adding more. "Creating or supporting more of these programs on the outside seems more doable," she said.
The team's conversations included the Department of Corrections, Department of Labor, the nonprofit Man Up and New England Tech. "We've put a lot of people together, and the next step is to focus on private sector business," Pisaturo said.
The other Xi II projects were:
• Arts/Design – Connect apprentices with people engaged in historic preservation and restoration, and identify available partnerships to catalyze new projects in the arts, design and historic preservation community.
• Civic/Community/Neighborhood – Improve civic, community and neighborhood engagement for all Rhode Islanders.
• Economic Development – Use placemaking as a concept to spark economic development.
• Education/Literacy – Launch the pilot of a literacy program for pre-kindergarten students in Providence.
• Health/Wellness/Medicine – Do a needs assessment to determine the feasibility of creating a mobile wellness unit for youth in the state.
• Poverty/Hunger/Basic Needs/Quality of Life/Housing/Homelessness – Identify a leadership position or office in the state to focus on innovative solutions for affordable housing.
• Workforce Development – Bridge the gap between employees and employers, focusing on partnerships with private companies to develop math and technology skills training for 12- to 30-year-olds.